Best Cheap Digital Piano with Weighted Keys
Its hard to determine what is cheap and what's not for some people. I have put together what I feel are the best cheap digital piano with weighted keys.
I have limited my recommendations to 4. They each vary in style, performance and of course price.
Do bare in mind when you are looking fir options with weighted keys; you are generally getting higher in price.
However, I do feel the options below are very affordable digital pianos with weighted keys.
---
Alesis Recital 61 (Cheapest Option)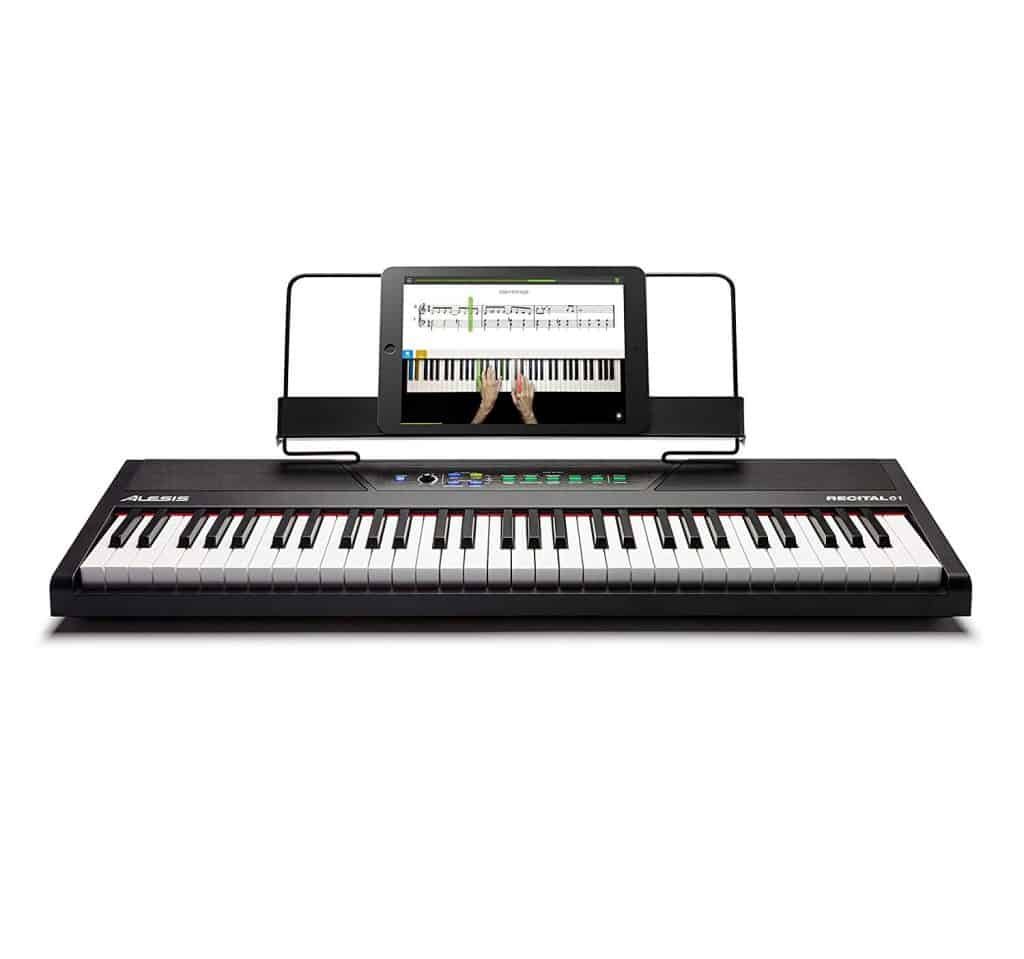 The Alesis Recital 61 is one of the best cheap digital pianos with weighted keys. Albeit they are semi weighted; but they are weighted with adjustable sensitivity for matching your playing style.
This is a brilliant digital piano for any beginners just starting out; and it will not break the bank either considering it has some great features like premium sounds, FX and multiple playing modes.
The Alesis Recital 61 comes with 10 premium sounds including Acoustic, Electric, synth and more.
The layer options lets you combine two of the 10 voices; and also asign each voice to a your right/left hand using split mode.
All of this paired with the FX's available to use; this is a great starter piano with weighted keys to get creative. These can be
As this is a digital piano designed for beginners; you can assume they could be getting lessons or maybe learning to play from an adult. The lesson modes available are great for learning to play piano.
Bare in mind this not an expensive weighted key piano like the more high end Casio PX-770 mentioned below or the big brother Alesis Recital Pro (SP).
The sound quality might not be the best in the world, but you are getting a great starter digital piano.
---
Yamaha P71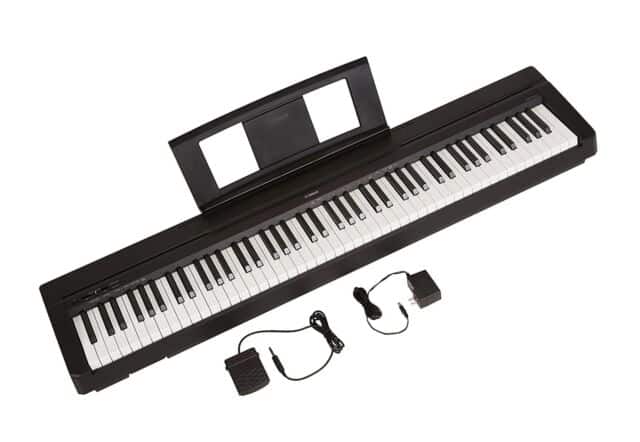 I had to mention the Yamaha P71. I know it's not the cheapest digital piano with weighted keys; but it is one of the best.
The reason I put this is because its so popular. Roughly $450 for a weighted key piano might sounds cheap to some or might be crazy expensive for others; but I said I thought it was worth mentioning.
The P71 is in fact a Yamaha P45 keyboard piano. The P71 is specially branded model exclusively for Amazon only. Its the exact same model, design, sound quality as the P45; it just has a different label.
This actually confuses consumers, so I did a full post comparing the Yamaha P45 vs P71 discussing the both of them.
The P71 is the perfect digital piano with weighted keys for home use. It's full size with 88 keys, realistic feel, great sound; making it great for rehearsing and learning piano online.
The weighted keys are graded hammer standard designed to feel like they would an acoustic piano; this makes it perfect for practicing the correct finger placement.
Although its a digital piano, its built with Yamaha's classical sound engine. I would go into a little more detail about this but I covered it in my review Here.
Long story short, the classical sound creates an advanced wave memory sampling to create deeper, and richer sound quality like you would from an acoustic piano.
The Yamaha P71, or P45 if you are buying outside of Amazon really is a really good cheap digital piano with weighted keys.
---
LAGRIMA 88 Digital Piano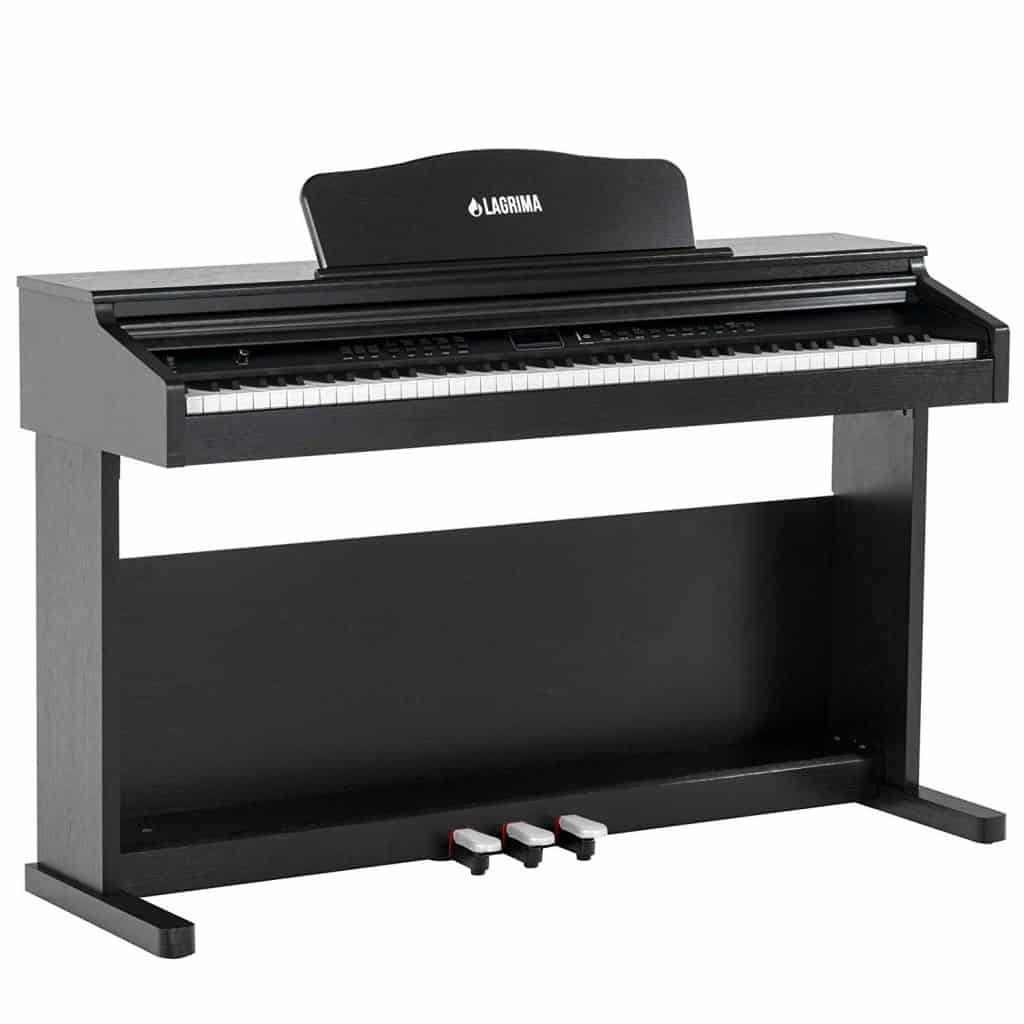 The LAGRIMA Digital Piano also featured in my digital piano for classical pianists post which is worth checking out.
With it's 88 key weighted hammer action, you get the acoustic feel of a real piano. The keys are heavy in the lower end and feel lighted in the higher end; just like the real thing.
The LAGRIMA offers that real piano feel thats perfect for any adult learning piano or beginner who is serious about learning piano.
The options I have mentioned so far are good; but this is the first option I have mentioned so far that has the full real piano experience with the 3 pedal system and actual wooden frame.
You also get plenty of built in features like a LCD Display, stereo speakers along with plenty sound options with over 900 timbres and 200 rhythms.
The LAGRIMA Digital Piano allows you to get creative. You can record, play and connect external devices for music software. You can connect a range of device types like iOS, Android, Pc & Mac using the USB.
I know we are looking for cheap digital pianos that have weighted keys; but what I really like about this is that it's looks like a real piano. It's not a keyboard you fold away under the bed or put standing in you warddrobe.
The LAGRIMA Digital Piano is a digital piano that would sit proudly in any sitting room. The design is modern and should be a good fit for any house or small apartment that doesn't have the space for a grand piano.
---
Casio Privia PX-770 (Favourite)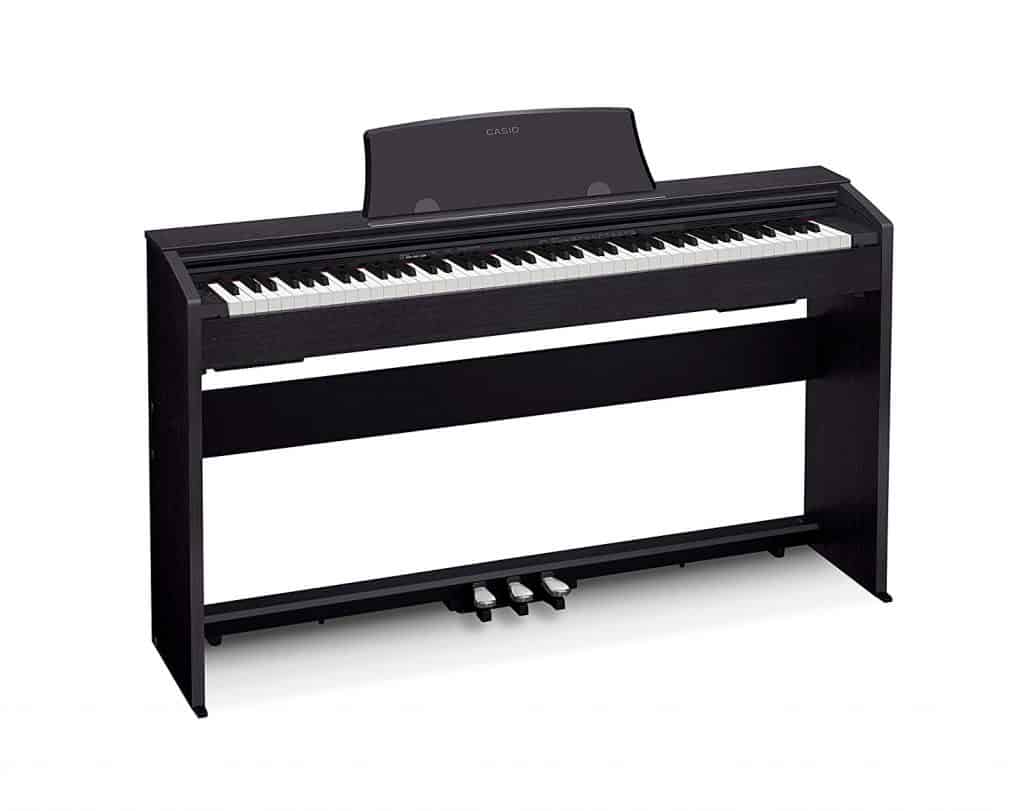 The Casio Privia PX-770 is very like the LAGRIMA mentioned above. Again I wanted to give you some options that look and feel like real pianos, rather than keyboard pianos like the P71 and Alesis Recital 61.
The PX-770 really does offer a true grand piano feel that just looks amazing. Its design is easy on the eye and naturally first into most modern styled homes; especially with the furniture bench available to purchase with it.
Finding a cheap digital piano with weighted keys can be hard; but the PX-770 is definitely one to consider.
Wether this is for you or maybe a family member I don't know; but one thing I do know this is great for anyone who is serious about playing piano at home.
Ok it looks great; but how does it sound? Casio is a household brand that's known everywhere like Yamaha. With that you expect quality; and you get just that.
Like Yamaha, Casio also have their own award winning sound. The PX-770 includes their stereo sound grand piano which sounds great.
With 19 tones available for playing different types of songs; you and your family can play all types of music. You can also layer and split these to get a little creative.
The Casio Privia PX-770 comes with 88 weighted graded hammer keys made from ebony and ivory textured keys for that professional feel.
Adjust the sensitively of the keys to match your playing style or type of song you are playing for real time delay.
One last thing to note is the built in speakers. They are cleverly positioned for optimum listening.
The Casio PX-770 is probably my personal favourite of the bunch. I love the style, design and overall sound of the this piano. The sleek wooden finish just naturally fits into its surroundings.
---
Best Cheap Digital Piano with Weighted Keys
I hope this post was helpful to you and you are able to find the best digital piano for you. If you are still unsure; be sure to post any questions you have below in the comments and I will get back to you.
---
Disclaimer
Keep in mind that we may receive commissions when you click our links and make purchases to fund this website so we can continue to create amazing reviews for our readers. However, this does not impact our reviews and comparisons. We try our best to keep things fair and balanced, in order to help you make the best choice for you.