Top 10 Best Metronomes for Guitar Players & Musicians in 2022
Metronomes rank among the best and most essential practice tool for musicians at any level of expertise. These innocuous gadgets simply provide a consistent "tock-tick-tick-tick" while you labor away to hone your tempo and rhythm. Their sounds range from clicks/ticks to beeps to a drumbeat. And, you can modify their time signature to create simple or complex rhythms depending on what you need.
Every professional guitarist will tell you that being a musician takes long hours of practice and years of dedication before you master your instrument. If you are serious about advancement and improving your musicality, grabbing one of these best metronomes right from the start will be an investment you won't regret.
Keeping that in mind, we've shortlisted ten of the finest metronomes that vary in functionality and features. Some of these are digital and others are wrapped in an old school analog package. In the end, your budget and desires will dictate which of these are ideal for your needs.
We've got clip-on metronomes, pendulum-based analog metronomes, cheap digital metronomes, and high-end metronomes that double up as drum-machines. We'll start with the cheaper options and move on to the more expensive models so that you can zone in according to your budget.
Besides the price, these models vastly differ in size, features, ease-of-use, and quality. Whether you are looking for something complex or casual, you're bound to find a gadget that "tocks" just for you. So without further ado, let's get to the clickin' and a-clacking:
Best Metronomes for Guitar Players
#1 KLIQ MicroNome – USB Rechargeable Clip-On Metronome + Tuner

The KLIQ MicroNome is an incredible USB rechargeable metronome at an astounding price. This petite pocket-sized white metronome has an LCD display with LED indicators, a LOUD speaker with volume control, and all the essential features that most musicians require.
To begin with, it has a reasonably sturdy casing and good visibility. It has a beats range of 0 to 9 and a tempo range of 30 to 260, which is sizably better than most other options on this list. Additionally, you get 9 rhythm settings and an auto power-off feature if the device is out of use for more than three minutes.
One full USB charge results in 15 hours of constant use and you can save a lot of money on batteries. However, if you've forgotten to charge it, you can simply hook it up with batteries and use it as a regular clip-on metronome. This unit doesn't have polyrhythmic capabilities but the nine time-division variations make it possible to create some complicated rhythmic patterns.
With a 3-year guarantee, you will get a replacement if your metronome stops working as advertised. At under $20, everything about this unit is simply commendable.
Product Highlights:
Super compact and easy-to-use
9 rhythm settings & 30-260 bpm range
Best-in-category Clip-on Tuner
Good functionality & features
Astounding value for money
#2 Korg MA-2 – Pocket Digital Metronome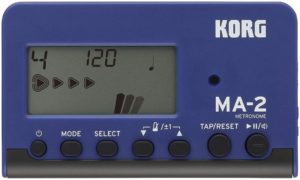 Korg has reworked the bestselling MA-1 design to bring for the MA2-BLK. Like its predecessor, the MA2 has quickly ascended the bestselling list of metronomes due to its reliability, portability and affordability. This compact and ultra-light (68 grams) metronome has a tempo range of 20 to 252 beats per minute and a 3.5mm headphone output.
The MA2 has a beefed up LCD display (30% bigger than the MA-1) and a louder beep, which was one of the common complains in the previous model. Moreover, you also get acess to the new Timer mode and a significantly improved battery life. 2 AAA batteries can run this unit for 400+ hours making it one of the most battery efficient units on our list.
This is an entry-level product with a competitive price tag, but also means they've only included essential features to keep the costs down. For instance, the MA-2 only has one tone – the aforementioned loud beep. It is available in a two-tone red and blue finish options.
In conclusion, the MA-2 is a no-frills digital metronome with basic functions. The construction is durable, the battery life is incredible and the unit can sound really loud when needed. It offers great value if you are looking for something simple, easy to use, and inexpensive.
Product Highlights:
Ultra-light and pocket-sized
No-frills and cost-effective metronome
Loud beep and Time mode
Impressive battery life
Good Budget Option
#3 Seiko Quartz Metronome SQ50-V
As a manufacturer, Seiko dates back to 1937. They've been focused on creating musical accessories with efficient and affordable designs. Keeping to that tradition, Seiko offers the SQ50-V – a quartz metronome that is competitively priced and easy to use.
The SQ50-V can be set in a tempo range of 40 to 208 beats per minute using the 39-position rotary dial. It has a built-in stand that can be folded out to prop up the metronome and folded in when not in use. Additionally, this energy-efficient unit only needs a 9V battery that is supplied with the purchase.
It also has an LED light that flashes in sync with the beat. This feature can be handy when you don't want to hear the click and only want to use the light as a reference. However, if you want loudness, it will not be an issue because the SQ50-V has two different sounds – tempo and beat –and an independent volume control.
Considering the meager price tag, there is little to fault with this metronome. It has all the requisite quality and essential functionality any musician can ask for. Overall, Seiko's Quartz Metronome offers great value for money if you like the peculiar retro design.
Product Highlights:
Has all the basic features
Two different sounds – beat & tempo
Volume control & flashing red LED light
Best Budget Option in this category
Great value for money
#4 Korg TM-60 Tuner + Metronome
The Korg TM-60 is a heart "beeper" that serves as a trustworthy entry-level metronome and doubles up as a chromatic tuner. It is housed in a pocket-sized yet rugged black casing with a backlit LCD screen that is significantly larger than the TM-50, which is one of the main reasons why we've picked this model.
This little black gadget hosts features like tap tempo, 15 built-in rhythms, memory backup to restore settings (presets), and auto power off. You get a microphone input jack and a highly accurate chromatic tuner that works even when the metronome is a-beeping.
Speaking of which, this metronome only has one sound – the beep – that can get as loud as needed. It doesn't hook up to any external supply but the manual state can run on two AAA batteries for 130 hours – that's pretty impressive.
Additionally, you can also get a hard travel case with a clip-on microphone for under $10. This protective carrying storage back is dustproof and includes mesh pockets for additional storage space to keep your guitar picks or a spare set of strings – a worthy accessory to add value and improve the lifespan of your metronome.
Product Highlights:
Tuner & metronome combo
Big LCD Screen Display
Runs on two AAA batteries
Auto Power off and memory backup
High value and pedigree
#5 KLIQ MetroPitch – Metronome + Tuner
If you want an affordable metronome, the three in one functionality of the KLIQ MetroPitch is a formidable option, especially for the price. It includes a metronome, tuner, and tone generator in a compact device that runs on 2 AAA batteries with no additional capability to use external power. It also ships with a carry case – a tiny pouch that doubles up as a travel accessory.
The MetroPitch has a tempo range of 30 to 250 BPM with multiple built-in beats and rhythm patterns. It also has a tap tempo feature and an easy-to-use jog dial to dial in the tempo quickly. The A0 to C8 range and pitch calibration means it is sufficient for any instrument you can throw at it.
As a powerful chromatic tuner, it uses a microphone to pick up the tones of your instrument as opposed to picking up vibrations. This does help tune your instrument accurately but it also picks up background sounds, so you'll need a quiet environment to tune-up.

The only downside is that it doesn't have a clip-on or fold-out stand, so you'll have to place it steadily against something or lay it on a flat surface. However, on the plus side, it includes a 3-year manufacturer guarantee that ensures it will serve you for a long time without the need to go looking for another unit.
Product Highlights:
3-in-1 – Metronome, Tuner, Tone Generator
Manufacturer guarantee (3 years)
Built-in microphone
Good Value for Money
Affordable Option
#6 Donner DPM-1 Mechanical Metronome For Guitar
Donner offers a mechanical metronome at a cut-throat price for guitarists who yearn for the classic design but aren't willing to pay a $100. Since this is a budget version of the real deal, it is a really loud pyramid-style metronome that is well-made and practicable.

The toned plastic casing is nothing close to the usual mahogany wood finish but at this price, it offers good styling and value. It has a tempo range of 40 to 208 beats per minute. It uses a pendulum swing to keep the beat via the traditional wind-up mechanism.
There is no battery involved or needed and that will save you some money in the long run. Once you wind it, it will last for 15 to 20 minutes. Like traditional mechanical metronomes, there is no volume button. Luckily, the sound is loud enough for most applications.
It also features a 5-position toggle switch for the bell that makes the bell sound on 2, 3, 4, 6 & "off" in the fifth position. The DPM-1 is a well-functioning keeper that will last you for a good while. If you want to shave a few dollars off the price, you can opt for the lower-priced Donner DPM-2 that is available in a black or red finish.
Product Highlights:
Best Budget Option for Traditional Metronome
A loud and audible click

Faux-wood Finish looks great
5-position toggle for bell options
Great value for money
#7 Wittner Super-Mini 903030 w/ Mahogany Wood Case
Wittner products are for musicians who want a traditional metronome with classic styling that can be passed down through the family. The German-made Super-Mini is a mechanical metronome in an elegant mahogany-colored rectangular wooden case with a hinged front for access to the unit.
Now, the Super-mini is indeed super mini – it is smaller than an iPhone and can run for up to 30 minutes with a single winding. The clock is well adjusted and for the size, it has a strong ticking sound. The screw can be removed and kept in the measuring scale hole when not in use. However, this unit doesn't include a bell to chime on the downbeat.
You might think it costs an arm but you do get what you pay for. Wittner has used real wood, real metal, and quality craftsmanship to put this unit together. There is no cheap plastic or ABS involved. Now, this isn't mandatory to find a good metronome but the build quality, construction, and finish do vindicate the price tag.
The Super-Mini's tasteful look is supplemented by a mellow but perfect sound. This is a travel metronome that is compact and easy to store. It isn't as loud as the digital options and the volume will drop as the winding goes down. However, the volume is perfect in the background for guitars.
Product Highlights:
Ultra-compact mini-sized mechanical metronome
Classic and timeless looks
Spring lasts long
Audible and strong ticks
Quality craftsmanship
#8 Wittner 816M Bell Tuner Metronome w/ Black Case
Wittner is no stranger to making world-class metronomes. This German company has been in the game for decades and is considered to be the ultimate brand within this category. They offer a broad range of mechanical models with their iconic antique styling and A+ build quality.
The thing about their retro-chic pyramid-style pendulum metronomes is that they only do one job but they do it better than the rest, and in great style.
This mechanical metronome is a bastion for the traditional approach to timekeeping. It doesn't get more old school than this. The chic wooden finish and tempo scale printed behind the pendulum shaft is the traditional way things were done. The 816M will let you select the timing with an option of 2/4, 3/4, 4/4, or 6/8 time.
This model has a bell tuner that will chime on the downbeat of the bar. However, if you want to turn this off, you can pull the bell selector all the way to disable the chime. This will leave you with a constant tick-tick sound without any emphatic marking of the downbeat.
The 816M is by no means an inexpensive unit. It is a mechanical metronome with quality craftsmanship and timeless styling that will appeal to the connoisseur and collector. As musicians, we spend a lot of time with a metronome, and having something enduring and elegant like the Wittner 816M can be money well spent.
Product Highlights:
Traditional mechanical metronome
Bell tune options
Pyramid shape with wooden casing
High-quality craftsmanship
Expensive but excellent for connoisseurs
#9 BOSS Dr. Beat DB-90 – Portable Metronome w/ Power Supply
The BOSS DB-90 is no "mere metronome", this is a beat machine with realism, preset patterns, note-mixing functionality, and the ability to fully create, adjust and save beats, levels, and note values. For serious musicians or those who seek advanced options, this unit is the endgame!

This pro time-keeping device is nothing short of a drum machine that delivers a beat that is a lot more musical than the menial (and sometimes strident) click-beep-tick sounds other devices offer. It can store 10 reference tones, 50 unique metronome presets and it even has a human voice count. The 5-pin MIDI input will let you sync to any external on-stage sequences for performance.
Since there are far too many cool features to mention, you can check it out in action in this video. While the price may seem daunting, you are also getting the entire bundle which includes an AC adapter (power supply), 2 10-feet instrument cables, 2 2×5" MIDI cables, 2 9V Alkaline batteries, and 5 cable ties.
Dr. Beat "beats" the competition when it comes to features, functions, and flexibility. This isn't your average metronome or a 3-in-1 unit. Instead, what you get is a highly advanced and fully-loaded gadget that will serve you for a lifetime.
Product Highlights:
Huge selection of sounds
PCM – realistic drum sounds
Incredible feature-packed pro-metronome
Built-in rhythm coach function
Pricey but good value for serious musicians
#10 Soundbrenner Core 4-in-1 Metronome Watch
Yup, you heard it right – Soundbrenner offers a fully functional metronome-watch made exclusively for musicians with a chromatic contact tuner, vibrating (pulse) metronome, and a decibel meter. It also features a companion app for the tuner and "hearing protection" that alerts you when you are playing at risky volume levels.
The body strap is highly adjustable and doesn't need to be worn on the wrist. You can even strap it to your thigh (above the knee) when you practice to be able to see the visual lights that are synced to the click track. The vibration on every beat of the metronome is very powerful.
The Core watch can be used as a fully functional chromatic tuner. You can remove the strap and put the tuner on a tuner mount that can be used as a clip-on tuner. The great thing is that the tuner picks up vibrations to tune so no amount of background noise is going to lead to any inaccuracies.

Now, this gadget may not compare to the run of the mill tuners because of its uniqueness and multi-functionality. You can see that reflected in the hefty price tag, which is comparable to that of a smartwatch. However, we've included it because it is a modern design with excellent digital capabilities. It can easily do what every other tuner does and then some!
Product Highlights:
Fully functional watch
Versatile Pulse metronome (vibration)
Excellent design and battery life
Decibel meter for hearing protection
Hefty price but unique functionality
Metronome FAQ – Frequently Asked Questions
What does a metronome do? How to use a metronome for practice?
As a practice tool, the metronome will provide a steady pulse or click that will act as a reference point when you play scales, runs, and chords/rhythm. The speed (or tempo) of the metronome is denoted as beats per minute (BPM). This speed is fully adjustable and can range from 30-40 beats per minute to 200+ beats per minute.
Do I need a metronome for the guitar?

Yes! Everyone who is learning a musical instrument should add a metronome to their practice session from their early days to improve their sense of rhythm and timing. A metronome will add value and efficiency to your practice sessions and function as an indicator to keep a tab on your progress.
Which type of metronome should I buy?
There are digital, mechanical, clip-on, fold-out, watch-style, and beat-making metronomes on our list. You have lots of options and you should try to figure out the context in which you will use a metronome the most and see which type fits into that category. A clip-on metronome is very different in size, use, and cost than the Dr. Beat, yet it is substantially less feature-packed. Neither can serve the function of the other with the same effect. Eventually, like all good purchases, your decision should be informed by your usage and budget.
Are digital metronomes better than mechanical metronomes?
Unlike their digital counterparts, mechanical metronomes have limited features and lack a volume control button. This doesn't mean they are any less audible, but they aren't distinctive and don't offer multiple sounds. Additionally, most digital metronomes have a built-in tuner and/or allow you to use headphones. On the plus side, mechanical metronomes have a traditional and classic appeal and give an impetus to the ambiance or "vibe" of your practice space. Different people will argue how one is better than the other, but it boils down to your needs. After all, who said you can't own one of each?
Final Thoughts
Rhythm training is a fundamental aspect of learning (and mastering) the guitar and for that, you will share many long hours with your trusty metronome. Different people have distinctive needs, so we've sported a plethora of options starting as cheap as $16 and all the way to $100+. We hope this article will help you find a training companion that will "tick-tock" with you all the way to guitar mastery. As always, happy hunting!