Flowkey Complete Review- Best Piano App in 2022?
Flowkey is one of the new Piano App's on the block. Flowkey offers the perfect mix of both learn to play the piano and learning your favourite songs.
It's becoming more and more popular each day offering a good foundation of piano basics and applying them to learning your favorite songs with step by step tutorials that are so easy to follow. Let's discuss further, here's my full Flowkey Review.
Summary: Flowkey is an excellent app you can download on your tablet or computer. Flowkey is both an online piano course and also song learning program with step by step video tutorials of how to play real well-known songs. Would I recommend Flowkey? Yess 100%.
---
How Does Flowkey Work?
Flowkey is an App you can download to your tablet or laptop that teaches you how to play your favorite songs on Piano or keyboard step by step.
Can I learn to play the piano with Flowkey? Yes, you can. Let's go into some more detail about how Flowkey works.
When you sign up to Flowkey, go to the home page. You can see below it's nicely laid out and easy to follow.
It's the same layout regardless of whether you use a laptop or tablet. This is nice if you like to use both.
Right at the top of the page, you can select your skill level; Beginner, Intermediate, Advanced, or Pro.
You can also filter by genre like Pop Hits, Classical, etc. Flowkey can show you how to play your favorite songs in minutes.
For this Flowkey Review example, we have selected beginner and selected Abba Mamma Mia. It takes a little time to load the video. Once it's loaded, press play.
The screen is split into two. The top part of the screen shows a recording of someone playing the song.
The bottom part displaying the piano chords and lyrics. This is the same when using it on a tablet or laptop.
The keys are highlighted and names as you progress through the song. It's really easy to follow. You can literally learn your favorite songs in minutes.
While reviewing Flowkey, I must say I was really impressed with the layout, the performance and how much fun it was to play.
It really is brilliant. I struggled to stop playing. I was immersed in the huge library of songs.
---
Can I Learn To Play Piano With Flowkey?
When I was doing my Flowkey Review, what I like about Flowkey is that you can both learn to play the piano and learn to play for your favorite songs.
Originally I thought Flowkey was just for learning certain songs on the piano, but after reviewing Flowkey I know it's so much more.
Flowkey offers a comprehensive piano course that's broken into several easy to follow steps. The course includes the following modules.
Introduction To Piano
Playing With Both Hands
Intermediate Piano Playing
Mastering Chords
Improvising With Chords
Music Reading Training
Playing Skills
Playing Skills II
---
Is Flowkey Good For Learning Piano?
When you are starting, I would put some time into working your way through the piano course. Even learning the basics will speed up your learning and have you playing your favorite songs quicker.
I would work through the first 2-3 lessons and then try and start playing a couple of beginner songs.
Try and find one of your favorite songs, it will make it more fun for you. Flowkey will track your progress as you work through each lesson.
You can always revert back and re-do some lessons. Take your time doing these, you will benefit greatly from the beginner lessons. If you have some experience, you could probably jump straight into some songs.
This is what I love about Flowkey, you really are getting the best of both worlds. You have a great piano course coupled with the ability to learn your favorite songs.
When I was doing my Flowkey Review, I tried to put myself as a complete beginner with no experience.
The lessons are very easy to follow.
Flowkey does a great job of walking you through the basics like posture and finger placement. The finger placement lessons in particular will prove quite useless when learning to play your first songs.
You start off by playing with either hand before finally transitioning into playing with two hands. I like this approach. It keeps things simple, easy to follow; and you feel like you are progressing quicker.
Intermediate level will become a little more challenging. You will be playing with both hands, major chords, and more difficult songs.
I just love how Flowkey challenges you to improve in order to play the more difficult songs. With the help of the chord highlights (see image below), it's possible to at least attempt to play the more difficult songs without sounding terrible.
---
How Much Does Flowkey Cost?
Is Flowkey Free? Kind of. You have a free trial option that you can try here before you make any decision to purchase. It does limit the number of songs and lessons you can do.
However, it does show you everything you can do once you have the premium version. This will at least show you are getting your money's worth.
What is Flowkey premium? Flowkey premium is the payment version that allows complete access to all piano lessons, song tutorials, and more.
How much does Flowkey cost? Since I am based in Ireland, it shows me the Euro pricing, but the pricing in the US is much the same.
For example the pricing for 1 month is €19.99 = $19.99 in payment terms.
How much does Flowkey cost? You have a couple of billing options available to you when signing up for Flowkey. You can pay monthly, annually, or a one-time lifetime payment.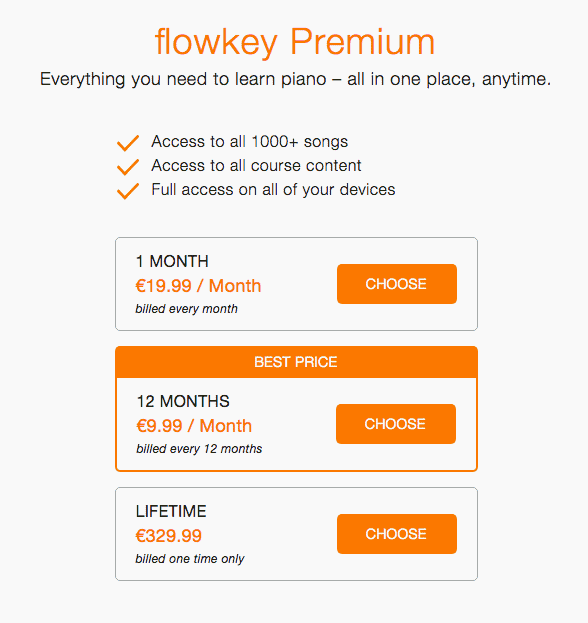 The most popular option is the 12-month payment option as it saves you a lot of money over the 12 month period.
If you pay monthly ($239.88) vs purchase the 12-month subscription ($119.88), you are saving yourself $120.
Now to be the seems like a huge saving. However, I would maybe try it monthly first, just to make sure it's for you.
If you are looking for a cheaper option, you should check out Piano For All (Review Here). It's an ebook with embedded videos and rather than pay a monthly subscription, you pay a one-off fee of $39.00.
It's a pretty good bargain to be fair. However, it doesn't offer you the same amount of content and fun as Flowkey.
---
What Songs Can I Learn To Play On Flowkey?
Flowkey boasts an impressive list of songs I must say. They have categorized their songs in a kind of unusual way which I kind of like.
Rather than doing your conventional 70's, 80's, 90's, and so on. They have a couple of interesting categories like Film & TV, Romantic, Game Music and Happy.
Similarly to the way Spotify has a lot of quirky categories.
I could be here all day listing the songs that Flowkey offers, but I can guarantee that you will find plenty of songs to your fancy. You should check out their website HERE.
If I click into the Pop Hits category, you will find plenty of household names like Ed Sheeran, Elton John, Coldplay, The Beatles, Abba, Justin Bieber, Beyonce, and so on.
---
Is It Easy To Set Up?
Flowkey did a great job of getting you set up and ready to play as soon as possible. Once you download the app to your tablet or use your laptop, you sign in, answer a couple of basic questions and you are ready to go.
One of the key standout features I've found with Flowkey that I haven't seen on any other piano program (that I have tested anyway) is the built-in microphone.
This is cool. Flowkey's software uses a built-in microphone from your laptop/tablet to track your progress as you play.
If you don't own a piano, you can purchase a midi keyboard. This is handy if you are working your way up to buy a piano or maybe don't have the space.
If you want to pick up a good quality piano keyboard, I would look into buying the a piano keyboard with weighted keys It's an excellent piece of kit that won't disappoint.
Pros & Cons
| Pros | Cons |
| --- | --- |
| Excellent Music Library with well known songs | Price |
| Updated regularly with latest songs | Monthly Subscription |
| Easy to follow song tutorials with highlighted chords | |
| Includes a complete piano course | |
| Built in microphone on your device can track progress | |
---
Flowkey Review: Is it Worth it?
Yes, I think it is. Why do I think Flowkey is worth it? Well I think it offers two amazing things.
It teaches you to learn to play the piano on your own and also gives you heaps of songs to learn step by step with details easy to follow videos.
I think the balance between the two makes Flowkey a well worthwhile investment.
---
Disclaimer:
Keep in mind that we may receive commissions when you click our links and make purchases to fund this website so we can continue to create amazing reviews for our readers. However, this does not impact our reviews and comparisons. We try our best to keep things fair and balanced, in order to help you make the best choice for you.