How To Be A Good Singer | 6 Tips To Improve Your Voice
It's often someone's dream to be the next Beyonce or Justin Timberlake. Maybe you want to sing professionally or attend a music college. If you want to do any of these things, you need to be a brilliant singer. I am here to help you to be a better singer. Here are my top tips on how to be a good singer.
---
Tip 1 – Get Professional Help
If you are serious about singing and want to be a brilliant singer; you need to consider getting professional help. This can be done in two ways:
Working with a Coach
Online Classes/courses
Both methods are quite effective and have their pros and cons; but both will no doubt help you become a better singer.
Which option you choose will be down to preference. Do you need the one to one coach or do you want to do it solo?
You can get some great courses and classes online relatively cheap nowadays, these can jump start you to be a good singer.
This might be the best place to start; as singing coaches can be quiet expensive. I've seen prices range from $50-$200 per hour for a good singing coach.
Whereas a good online singing course can be used over and over to maximise it's value.
Once you feel you have progressed and maximized your potential from the courses; maybe then it would be a good time to work with a singing coach.
The major benefit of a singing coach is that they can fine-tune your weaknesses to bring you to that next level.
I do think it is possible to learn to sing without a teacher. In my opinion online singing lessons are cheaper, more convenient and are very effective in improving your voice to become a good singer.
If you are looking for an online singing course to try; I would consider the 30 Day Singer. There's a free trial offer HERE that you could try.
---
Tip 2 – Focus On Your Breathing
If you want to be a good singer, you need to focus on your breathing. Breathing correctly in time dramatically improves your vocal performance.
If you want to be a good singer, proper breathing is something you will need to master. It will take some time to perfect; but believe me it's worth the effort.
One of the key tips to proper breathing while singing is to breathe in from your belly; not your chest. Not only does this improve your voice control but it also improves your vocals.
Place you hands on your stomach and try and push them out by expanding your belly.
A couple of minutes a day is all you need to practice this technique. If you are serious about singing and becoming a good singer you need to put in the time
---
Tip 3 – Learn To Warm Up Your Voice
Warming up is so overlooked. Runners don't train or compete until they have warmed up. The same goes for singing. We use our muscles to sing and we need to warm them up for the best possible vocal performance.
At first you might feel that they sound stupid and a bit silly, but vocal exercises will really help you.
If you are a little embarrassed doing this, find a quiet place so you can warm up on your own. Outside, an empty room, even your car; should be fine.
Find a warm up routine that works for you and stick to it. Every professional vocalist has a warm up routine; even Beyonce.
There's plenty videos on YouTube that can show you how to warm up. Find one that works for you.
If you buy an online training course, they will also walk you through some brilliant warm up rituals that are sure to benefit to you.
I like the warm-up routines on the 30 Day Singer course. See below a screenshot of some of the videos they have available.
If you would like to try some of these warm up routines, you can sign up to a free trial Here. These guy's content is brilliant; and it's probably the best singing course out there right now.
---
Tip 4  – Know Your Vocal Range
If you want to be a good singer you will need to know your vocal range. Once you find your range you can stick to it and work within your range.
Take the time and experiment with different ranges. You will notice your voice is better suited to certain ranges and will perform better.
Your ranges will vary depending on your gender. In total there are 7 main ranges. Some of these are for men and others are for women.
Soprano, Mezzo-Soprano, Contralto – Female Ranges
Countertenor, Tenor, Baritone, Bass – Male Range
There are several ways to help you find your range. You can use a keyboard or an online piano to help you.


---
Tip 5 – Practice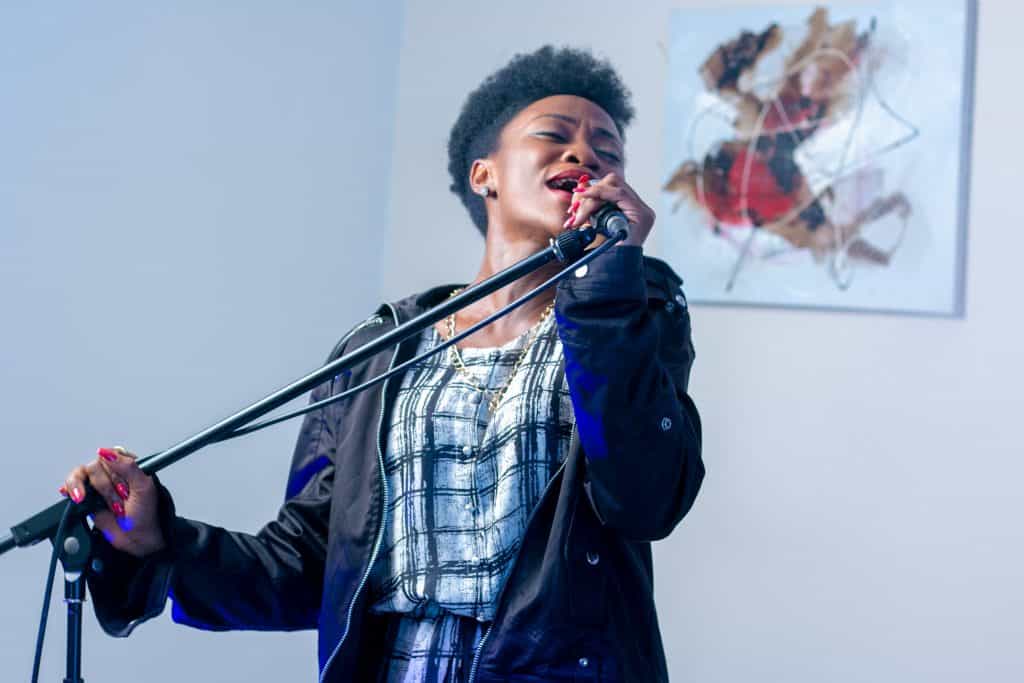 There's no other way of putting it. If you want to get better at something you need to practice. Practice, practice and more practice.
You can get all the online classes and one to one lessons but unless you practice what is being taught, you are wasting your time.
If you are serious about singing, and it's more than just a hobby, once a week is not enough.
If you want to have a career in music, attend a music school/college or maybe you want to sing professionally you will need to set aside a little time each day to get better at singing.
10 minutes a day will make all the difference to you and your voice. You don't need to overdo it and perform a mini-concert in your bedroom or live street performance every day.
For example, doing your warm-up exercises every day and performing one of your favorite songs in your vocal range will benefit you greatly. Set aside 10-15 minutes a day and do it right and do it well.
---
Tip 6 -Enjoy it
It's important to enjoy what you are doing. If you want to be better singer, I would hope that you love what you do.
If you feel you are falling out of love with singing or feeling fed up. Take a break, relax for a few days, sing along to your favourite pop hits in the car.
In a few days you will look at getting back on route to becoming a good singer.
---
Summary: How To Be A Good Singer?
I hope you enjoy this article and my top tips help you on your journey of becoming a better singer.
If you need some help more and want to kick your start your way to better singing I suggest you try the 30 Day Singer. You can find more info about this HERE.
---
Disclaimer
Keep in mind that we may receive commissions when you click our links and make purchases to fund this website so we can continue to create amazing reviews for our readers. However, this does not impact our reviews and comparisons. We try our best to keep things fair and balanced, in order to help you make the best choice for you.