How to Become a Dj Using a Laptop
How To Become A DJ Using A Laptop? Djing has never been easier to get into than is today. Back in the day, to be a DJ, you needed to invest expensive decks, PA system, and box loads of CD's/Vinyls.
Nowadays, if you want to become a DJ, all you need is a mixer and a USB stick. However, djing with a laptop has become more of the norm.
If you want to know how to become a DJ using a laptop, well I'm here to help. Learning to DJ was one of the best things I ever did.
It helped me pay for college and kept me going financially while in college. Anyway, on with the blog.
---
What Do I Need to DJ With a Laptop?
Here's what you need to DJ with a laptop.
A Good Laptop
What is a good laptop for djing?
You have so many options to find the right laptop for djing. There's a couple of things you need to consider before you purchase:
What Type Of Dj Do You Want To Be?
Do you plan on being a party DJ for parties/weddings? Do you want to be a club DJ? Or do you want to be a bedroom DJ? Each one requires different specs or reliability is the better term.
Reliability & Performance
A Party/Wedding just needs a little reliability. A simple USB, iPad, or cheap laptop will suffice for some back if your laptop was to crash.
Virtual DJ is the perfect software for party Djing, as it's more about the music and how the DJ gets the crowd going.
A club DJ needs high performance and reliability. Both of them are equally important. The last thing you need in a night club or late-night bar is for your laptop to crash.
It happened to me before and it's a nightmare. The software will need to be rebooted and that can take a couple of minutes (but feels like a lifetime).
Side tip: Make sure you have some form of back up like an iPad/USB Key/BackUp Laptop. Most decent night clubs should have Pioneer CDJ's there as standard so a USB key will be perfect to have
Processors
To run Dj software you will need a decent processor. I suggest a minimum of an i5. You don't necessarily need an i7.
If you can get one, great. i7's are more important if you plan on doing some music production.
Ram
You will need some decent Ram for laptop Djing. 8GB absolute minimum. Ideally, if you can I would try and get 16Gb.
One of the most important things you need when Djing with a laptop is reliability. If your Dj laptop is reliable and performs well you can just focus on playing.
If you plan on using some more technical DJ software like Traktor, Serato & Abelton Live, I recommend 16GB Ram.
---
Best Laptops For Djing?
There's plenty of laptop options for djing.
I know you might already be thinking mac or pc for djing?
The truth is, it doesn't matter which you choose.
It's more to do with what's inside the laptop like the ram and processors.
You might see most of the top djing & producers with the top of the range MacBook pros, but they are not necessary.
Whether you like a pc or mac for djing is completely up to you.
Use whatever you are comfortable with. Just make sure it's powerful enough to run whatever software you need.
I Would Recommend these as some of the best laptops for Djing:
No products found.
If you are not sure you can stretch your budget for a high enough spec and a new laptop.
You can also look for refurbished options. eBay & Amazon are great places to pick used/refurbished laptops for much cheaper than a brand new one.
---
Best DJ Software for Laptops?
You have a couple of options for DJ software. Traktor & Serato would be the most common DJ software around.
Depending on which DJ you talk to, each will have their preference.
The most popular DJ software are:
Native Instruments Traktor Pro 3 (Most Popular)
Serato Scratch Live (Popular For Turn Tables)
Ableton Live (More For Producers)
Virtual Dj (Beginner Friendly, Video DJ & Karaoke)
---
Native Instruments Traktor Pro 3
Traktor stormed onto the DJ scene gathering popularity with some amazing marketing with a brilliant product to back it up.
Traktor have released their very own Mixers (Midi Controllers) that work seamlessly with their software. If you are serious about learning to DJ, Traktor is one you need to consider.
If you do plan to get Traktor, I recommend you buy it with their midi controllers or mixer.
For example, their Traktor Kontrol S4 MK2 comes standard with their flagship software. The software on its own will cost $99.
Traktor's mixers are specifically designed to plug & play with their software and work seamlessly together. A simple set up to become a DJ using a laptop.
---
Serato Scratch Live
Probably the most common Dj software on the market (along with Traktor), gaining some loyal users over the last decade.
Serato Scratch Live is a popular choice among turntable DJs. But it has become very popular with club Dj's due to its simple plug and play set up with Pioneer CDJ's.
There is a Serato Lite versions also available. The Lite versions are more entry-level software that wouldn't have the key features as the Pro version.
Serato is a popular entry-level DJ software. If you are to buy one of the most popular midi controllers you will most likely get a Free Serato LITE copy of Serato Scratch with the controller.
This allows DJ's to simply plug and play their DJ controller. When they upgrade their equipment, oftentimes they will continue to use the Serato software as they are so used to it.
You can get the Serato Pro for a one of fee of $129, or a monthly fee of $9.99. To be honest, it's easier & cheaper to buy the software outright and I think that the monthly subscription is dead money.
Especially if you commit to Djing, you will eventually end up buying it outright.
---
Ableton Live
Ableton live is more of a producing software, rather than djing, but you do see guys using. Deadmua5 is a popular name who used to use this for his live shows.
Ableton is popular for using synchronized loops and it's live performance capabilities. However, Ableton Live is not really designed for Djing.
If you are just starting out and want to know how to DJ using a laptop, I would avoid this one for now.
It's also quite expensive coming in around $499 for a decent version of Ableton Live 10
---
Virtual DJ
VDJ dropped a lot in popularity. They didn't offer all the bells and whistles Serato & Traktor were offering. and a lot of DJs moved on.
However, learning how to DJ with a laptop using Virtual DJ is so easy. If you don't plan on mixing a whole pile, this a great software.
What I mean by mixing is you don't need to go adding loops, effects, etc to each song. You just need a song that can do basic beat matching and works well.
This is a perfect software if you plan to DJ for parties/weddings this is a great software to try.
VDJ has upped their game in the last couple of years and has added all the cool DJ effects, samples, etc to their software (if you plan to use them).
They have also added some cool video djing to their software. You will see some clubs and bars like video DJs with music videos playing in the bar mixing together.
Virtual DJ also has the karaoke add on which believe me comes in handy. VirtualDJ can play not only audio tracks, but also video or karaoke, if you connect your computer to a projector or the club's screens.
Virtual Dj is extremely compatible. It will work with the majority of midi controllers and of course, you're CDJ's.
You have a couple of options when buying a Virtual DJ. You have the home Dj version, a business version, and of course the Pro Version.
Unless you are an agency or run an entertainment business, you won't need the business option. The one you will be most likely to buy will be the Virtual Dj Pro version. Virtual Dj Pro costs $19 monthly or a $299 one-off lifetime payment.
It can be linked with unlimited controllers. So if you have a controller at home for practice, you can use the same software when you plug into the Dj set up in the night club/bar.
It is a little costly compared to Traktor & Serato, but VDJ has been downloaded over 150,000,000 times, so that means they are doing something right
---
How Do I Connect My Mixer to my Laptop?
Now that you know what kind of laptop to get, and you know what kind of software is available, now we need to get some hardware.
Over the last 10 years, DJ's have so many more options when it comes to DJ mixers. These can vary dramatically in cost, performance, and style.
The main two options you have are:
Analog Mixers
Dj Controllers
Analog Mixers
Analog mixers are standalone mixers, well originally they were. What I mean by that is Analog mixers were designed to be connected into turntables/decks and the PA system.
They were not designed to connect to laptops. However, it was possible via time codes or sound cards you could buy with some software applications.
Manufacturers knew the efforts DJ's went to connect their laptops to their mixers, so eventually, they incorporated it to their setups. Well, some models anyway.
Analog mixers tend to sound a little better, but that's not just why I like them. I mentioned earlier in this post about the importance of reliability.
Analog mixers are standalone mixers, so if your laptop was to crash, your mixer is still good to play whatever you like.
For example, if you have music back up. This will keep the music playing while you reboot your laptop.
Midi Controllers don't have this luxury. The music essentially goes from the mixer > Laptop software > back to the mixer > sound system. So essentially if the laptop goes, it all goes.
DJ Controllers
These controllers were once seen as for beginner only DJs. A cheap way of buying a mixer to learn how to DJ with a laptop.
That is now not the case.
Dj controllers offer an all in set up in a single unit. Most higher-end models now offer a 4 channel mixer, 2 decks, multiple software compatibility, and every feature and sound effect you need.
Dj controllers are now high quality all in one setups that have all the features and more than a DJ needs to rival the $10K set up in the night club.
10 years ago you had a couple of cheaper models available, nowadays there are actually too many options.
Even each manufacturer alone has too many options. It's all about how much you want to spend. If you are just starting out, I would start with a DJ controller.
I recommend you get a decent one as well. There's no point investing in a cheap one you will grow out of quickly. Get a Dj controller you can use for a few years at least.
---
Best Dj Controllers For Beginners
I was going to recommend some of the basic models, but to be honest, I don't think they are worth your time.
If you are serious about learning to DJ with a laptop, you need to have the proper equipment. As you start getting gigs as well, you will look the part with professional equipment.
So what I have recommended below are some excellent DJ controllers that are perfect for any DJ who wants to know how to Dj with a laptop, regardless of their skill level.
They are mobile, so you can easily turn up to any club and plug in your controller.
Denon DJ Controllers
Denon has made a massive comeback into the DJ market. You will see a few recommendations below. For the first time in a long time, they are rivaling Pioneer.
Even in many nightclubs now and at big stage gigs, your 'Industry Standard' Pioneer CDJ set up isn't always there.
Denon brought some amazing DJ controllers that got the attention of a lot of DJs. The Denon Mc6000 was the first one for me that I tried and fell in love with.
It was both an analog mixer and a DJ controller, so you could use it without your laptop if you liked it.
What I used to do in the nightclub was take out the club mixer and replace it with my MC6000. I would connect my laptop for djing with channels 2/3, and connect two CDJ's to Channel 1/4.
This was perfect as it had me covered against any computer crash as I had x2 CDJ's set up ready to go. I used them anyway and a USB stick connected to both CDJ's.
Denon has upgraded models since and the Denon MC7000 deserves a mention.
No products found.
Traktor Dj Controllers
It's not all about Denon, you have to check out the Traktor S4 Mk3. If you are big into mixing, the Traktor S4 MK3 offers so many capabilities.
Like over 40 tempo-sync effects, high-resolution tempo display for each channel, punch cue points & loops, on the fly deck samples, and more.
It is a cool device that won't disappoint. But it's not just how cool it is, it's how well it performs. The sound quality is amazing.
It's a strong sturdy device, and does not take up too much space. It's a perfect mixer for any major club set up or a mobile DJ.
You can link up CDJ's etc if you wish. One of the major benefits of buying the Traktor S4 Mk3 is that it comes with Traktor Pro 3.
So by buying the S4 mixer, you are saving the cost of buying the software separately.
No products found.
Denon Mc7000 Vs Traktor S4 Mk2
I would have to side with the Denon Mc7000, for two main reasons. The Mc7000 is a standalone analog mixer, not just a DJ controller.
What this means, is if your laptop was to crash and die completely, you can still DJ with other line ins (CDJ's/Turntables/iPad).
Whereas the S4 requires a laptop either way. So if you're laptop dies, you can't use it. The second reason is ease of use.
The S4 has a bit of a learning curve. It's not laid out like your standard mixer or controller, and it will take a little longer to get the hang of it.
But it has so many mixing capabilities. As your skills grow, you can get really creative. If you want to know how to DJ with a laptop, you should try either of these.
---
How Do I Start Being A DJ?
Get A Mentor
The single best advice I can give you is to get out there and find a mentor. Do you know any local DJ's? Not the guy that does the odd gig here and there.
Try and work with a DJ who does a lot of gigs and is experienced. For example, if you want yo be a club DJ.
You should go to a few clubs in your area and speak to a couple of DJs. Maybe try and meet them before they set up or at the end of the night.
Ideally, before they start, so you are sober and not a drunk guy at the end of the night talking s**t. Believe me, those guys are there.
Ask them if they would mind if they could mentor you a little and if you can watch them play in the DJ booth a couple nights.
This is quite common so don't be embarrassed about asking, as they would have likely done the same.
What most DJ's do and what I used to do was show them how to set up the equipment before the gig starts.
But after a couple of nights, I used to let them play the first 30-60 minutes of the gig. It's usually quieter as well for the first hour, so there's less pressure.
If you find the right DJ that you can work with, I found from my own experience and from others that it eventually opens to doors to bigger gigs quicker.
For example, you have been working with this DJ for a while now. He needs to cancel the last minute of his night club residency gig due to illness or some emergency.
Often times, they might ask you to fill in for them for the night (If they trust you).
This can work the same for some of his DJ friends, who might need a last-minute replacement and the DJ who is mentoring you recommends you for the gig. This exact thing happened to me and led to my first residency.
What I found with Djing was that getting gigs was like a domino effect. Each gig leads to the next and before you know it, you have a regular Dj roster.
Network With DJs
Networking with DJs is so important. It can really fast track you to success and finding regular DJ gigs.
When you network with good DJs you will learn a lot. Not just about mixing, but the business in general.
How to speak with club/bar managers, how to handle drunk people requesting songs, how much they charge for different gigs etc. Remember, DJing is a profitable business for a lot of people.
Tip: If you are in college, there's likely a DJ society or club you can join. Make sure you do this. It's a great place to meet both new and experienced DJs. It also opens up the possibility to do some college gigs and gain some great experience.
Get A DJ Course
If you have a little money available, I would pick up a cheap DJ course. This will walk you through the basics of the DJ mixer and software.
I would recommend this, especially before asking for a DJ mentor. Just so you can understand some of the stuff they are saying.
DJ Courses Online has some great courses and you can learn to DJ with Traktor, Serato, Ableton, and more.
---
How to Become a Dj Using a Laptop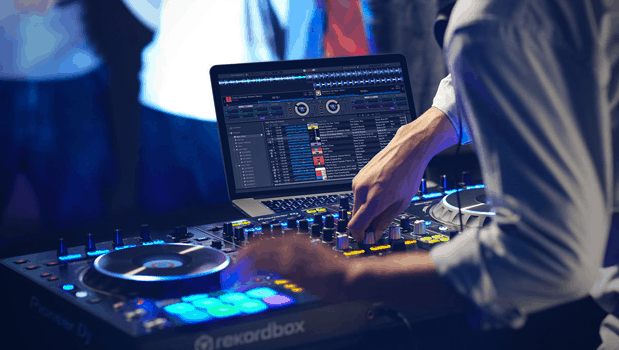 If you want to be a Dj using a laptop, you will need to, first of all, check out how good your laptop is.
Do you have enough ram and processor speed to run the DJ software you want to use?
Once you have figured out the laptop & software you want to use, you will need to pick your mixer.
Personally, as I mentioned earlier, you will be better off buying a DJ controller. Most will include DJ software, so it makes sense to get together. Get out there and learn how to DJ.
Find a mentor and network with as many DJ's you can. Hopefully, this article helps you learn how to be a laptop DJ.
---
Disclaimer
Keep in mind that we may receive commissions when you click our links and make purchases to fund this website so we can continue to create amazing reviews for our readers. However, this does not impact our reviews and comparisons. We try our best to keep things fair and balanced, in order to help you make the best choice for you.