Yamaha FG800 Vs FS800 – Similarities and Differences You Need To Know
In this post we will compare the Yamaha FG800 vs FS800 to help you figure out which one is right for you, what are the key differences you need to know and more.
Yamaha FG800 and the FS800 look a lot similar, yet they are very different to the trained ear. Yes, both guitars represent the best of acoustic guitars, and you'd be making a great investment with either, but if before you choose one over the other, you need to know that these two guitars have some important differences.
Take their names; for example, the FD and the FS are differentiated by the fact that the FG stands from a Folk Guitar while FS means Folk Small.
With the difference in the name/ meaning of the names, it's clear that the FS800 is smaller than the FG800. But the name and size aren't the only differences between the two.
However, before we whisk you down to look at the differences between these two guitars, first let's look at some of their similarities.
Instrumental Global is a participant in the Amazon Services LLC Associates Program; an affiliate advertising program designed to provide a means for sites to earn advertising fees by advertising and linking to Amazon.com.
---
Yamaha FG800 vs FS800 – Similarities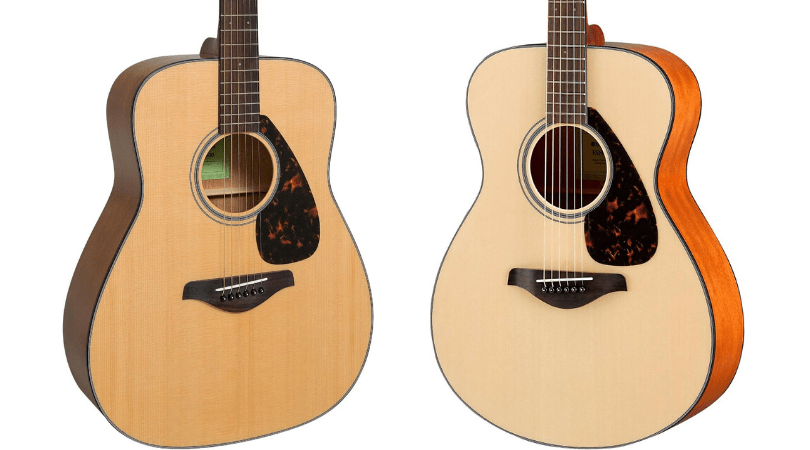 Among other features, both the FG800 and the FS800 acoustic guitars are quite affordable, and they both stun in quality, against the price – both guitars cost less than $300 (this was the price after their release).
Style
Both FG800 and FS800 are acoustic-only guitars, which means that if you are playing either guitar in front of an audience, you may need to use a separate microphone. Or you could get more powerful sound output if you add an amp output and connect it to an external guitar amp.
Their bodies have some differences from other acoustic guitars, and both have a single cutaway.
Quality
The quality of these two guitars is exceptional since both guitars feature a Solid Sitka Spruce top, a mark of quality in the world of guitars.
This excellent top results in a tonewood that produces a sharp and very clear sound with distinct tones.
The wood is also pretty dense and hard, and it has been, for the longest time, been the go-to option for Luthiers from all over the world.
String type
Whether you choose to buy the FG800 or the FS800, you will enjoy the same string experience since they both have steel strings that are not only affordable but also quite easily replaceable.
The catch with the steel-string type is that you'd have to replace the strings frequently because of the Rosewood fretboard.
Now, while Rosewood is the best choice for all fretboards since it doesn't need any finishing other than its natural oily feel.
This lack of the need for a finish calls for periodic cleaning and conditioning for the guitar to feel great and for its optimal performance, and for cleaning/ conditioning, you'd have to remove the strings and wipe down that fretboard using the fretboard oil.
Tuning
Both guitars require tuning because they are factory-made. If you are a beginner starting to learn guitar, it means that you have to visit a hardware/music shop for tuning.
Scalloped Bracing and Fretboard
The other impressive feature of these guitars is the scalloped bracing present in both guitars. The guitar's bracing refers to the soundboard at the back surface of the guitar's top body.
They are the struts that break down the energy exerted from/ by the strings, reducing the distortion of sound as the top body resonates with the vibration of the string.
While bracing would affect the quality of the tone, scalloped bracing, a feature only seen in the high-end guitars, will enhance both the low and the mid-range responses, creating richer mids and warmer bass.
The sound is also more sustainable as a result. Note that the fretboard also comes scalloped in both guitars, which means at your fingers and hand will be relieved from the use of too much pressure when fretting.
---
Yamaha FG800 vs FS800 – Differences
Sound
The sound differences between the FG and the FS are largely negligible, although some users find that the FS800 has a much warmer but loud sound compared to the FG, which has more bass and sustain.
Body Type
The biggest difference between FG800 and FS800 has to be the body type. Besides the size, FG800 (Check Price) has a Dreadnought body type and FS800, a Grand Concert Body Type.
The difference between these body types is that the Dreadnought is ideal for guitarists who do more of finger-playing as well as strumming, which means that this guitar is ideal for you if you need a guitar that offers a big and bold sound coupled with sounds that go as low-end as they can go.
This guitar gets the name of its body type from the huge battleships used in WW1 – the guitar's body type is fairly large, and it boasts some bold characteristics.
Note that the FG800 has smaller curves accompanied by a bigger box, hence the bigger/ louder sounds.
Think of this guitar as one that's been built to pack a punch – it's the acoustic guitar you need for fuller, deeper, and bolder tones, which also makes it an excellent option for singer/ songwriters looking for something to strum along to while singing.
It's also a good fit for you if you need a powerful sound and the lowest ends possible.That said, the FG800 isn't ideal for beginners because it's uncomfortable to hold, and it's also big.
The FS800 (Check Price) is, on the other hand, ideal for beginners, as well as players with smaller hands because it's got noticeable curves, and it's smaller.
You might also like the curves because they expand the variety of music styles that you can play on the guitar.
The Grand Concert Body Type is fairly compact, and it's an excellent parlour guitar – you can play it while watching TV, sitting comfortably on the couch.
Its curves are significantly more noticeable than the FG800's, a design feature that makes this a sexy guitar, and the curves also allow the guitar to produce the most beautiful mid-tones, hence the use of this guitar for a wide variety of musical styles.
The reason why the Grand Concert body type of the FS800 makes this a great guitar for individuals with small hands has to do with its small nut width, which allows you to play the strings much more comfortably.
Taking these two body types into consideration, the FS800 is more versatile and comfortable thanks to the Grand Concert body compared to FG800's Dreadnought body.
Size/ Length
While FG800 and FS800 are both full-sized guitars with 20 frets, they vary in length at 25.6 and 25 inches respectably. With the FG800 being slightly longer than FS800, the total length of the FG800 is 40.9inches, while FS800 is 40.2 inches.
Because both are full-sized guitars, they are not ideal for children.
FG800 – Pros and Cons
Pros
Better quality low-ends
Great for finger-playing and strumming styles
It produces louder and bolder sounds
Cons
Some discomfort experienced when playing/ holding the guitar
Less music style variety
FS800 – Pros and Cons
Pros
Ideal for beginners
Smaller and compact hence suitable for people with smaller hands
Versatile guitar for a wide variety of music styles
Cons
Low-ends are not as low
Not as loud
---
Conclusion – Yamaha FG800 vs FS800
We cannot deny the fact that both the FG800 and the FS800 guitars are great bangers, and they are two of the most popular acoustic guitars.
However, they have some winning differences, depending on what you are looking for.
For example, FG800 gives louder and deeper sounds, but it's bigger and a bit uncomfortable while the FS800 offers more variety, and it's ideal for beginners and people with smaller hands.
So, for you to choose one over the other, you need to consider the size, your playing style, level of expertise, and your body.
I hope you enjoyed my post comparing the Yamaha FG800 vs FS800 and it was helpful you in some ways. If you are a beginner and should check out my post on 'How to Buy a Guitar for Beginners?'.
If you have any questions or feedback, please leave them below in the comment section.
---
Disclaimer
Instrumental Global is a participant in the Amazon Services LLC Associates Program; an affiliate advertising program designed to provide a means for sites to earn advertising fees by advertising and linking to Amazon.com.
Bear in mind that some of the links in this post are affiliate links and if you go through them to make a purchase I will earn a commission.
Keep in mind that I link these companies and their products because of their quality and not because of the commission I receive from your purchases.
The decision is yours, and whether or not you decide to buy something is completely up to you.