Yamaha P45 vs P71 | Which One is Better?
If you are reading this, you are more than likely looking to buy a digital piano and are stuck between two options – the Yamaha P45 vs P71. Ok, first off, you are heading in the right direction. Both the Yamaha P45 and P71 are excellent digital pianos.
Both the P45 & P71 are designed with beginner or intermediate players for home in mind; but we'll get to that below.
But I wan't to let you in on something you need to know about the P45 and P71. They're the exact same. digital piano.
---
Is There Any Difference Between the Yamaha P45 and P71?
There's been plenty talk over the years speculating that the Yamaha P45 and Yamaha P71 are the the same digital piano.
Thanks to a post on Yamaha's website, they confirmed that there's no difference between them. The P45 and P71 have the same design, sound and functionality, but have a different model number.
Why do the P45 and P71 have difference names if they are the same piano? To be honest I don't know, it's a little stupid if you ask me.
Basically the Yamaha P45 (Check Price Here) is for retailers and the Yamaha P71 (SP) is exclusively for Amazon. I'm guessing that Amazon wanted to do some sort of deal with Yamaha or visa versa.
So there's really no point in doing a comparison table comparing the Yamaha P45 vs P71 as we now know that are both the exact same. But I will go into a little detail about what they do offer and if either are a good fit for you.
---
Piano Summary and Key Info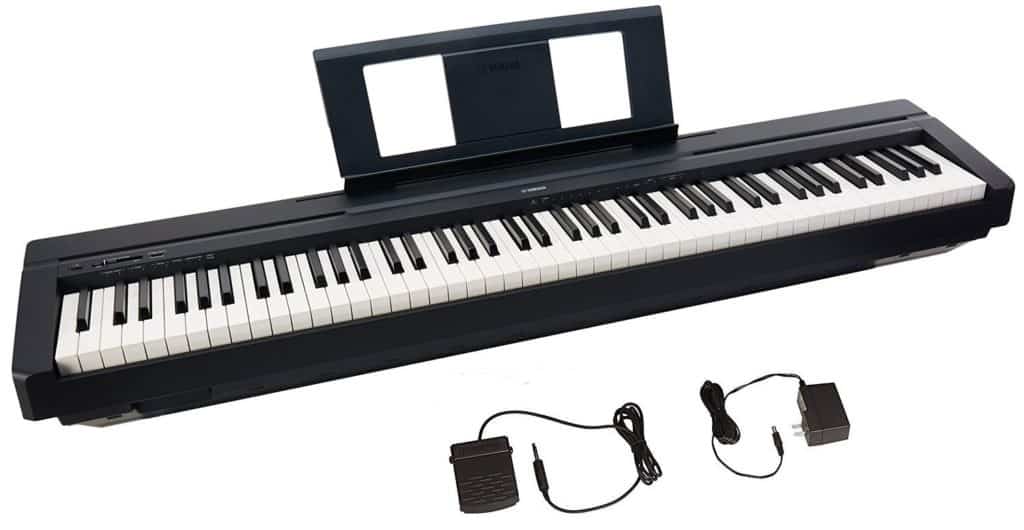 The Yamaha P45 and P71 are digital pianos designed for home use. They are perfect for practicing at home and learning to play piano.
It's perfect for any beginner starting out or maybe a more intermediate player looking to a quick rehearsal or practice session.
It's a full sized 88 key digital piano but lightweight (only 25 pounds) and portable for moving around. It's perfect if you are a little tight on space in your home and can be easily stored away.
It can be placed standing in wardrobe (make sure it's secure and doesn't fall) or placed under your bed for quick and easy access to do a quick practice session.
Performance
If you are a beginner starting to learn to play; the P45 or Yamaha P71 (SP) would be a great place to start learning to play piano.
Yamaha's GHS weighted keys are perfect to help beginners understand how pianists have different playing styles and techniques.
The Graded Hammer Standard (GHS) keys have different sensitivities levels, similar to what you would see in an acoustic piano or some of the more expensive digital pianos.
Having the GHS will make aspiring pianists more prepared for when they move to a acoustic piano down the line.
You have 10 separate tones to choose from.
2 Electric Piano voices
2 Grand Piano voices
2 Harpsichord voices
2 Pipe Organ voices
Strings
Vibraphone
You can use the dual mode to enhance your playing experience by combining strings or other tones to your piano playing. The only downside is that the P45 and P71 doesn't have a record feature.
There is a MIDI workaround but it's a bit of hassle to be honest. If you are set on having a record feature, maybe the Yamaha P-125 could be the best option.
For such a reasonably priced digital piano, you are getting some amazing sound quality using Yamaha's sound engine.
Their advanced wave memory uses digital technology to replicate the sound of an real acoustic piano using sampled tones; which is pretty cool.
There's built in speakers to listen to your playing sessions. They aren't the loudest speakers in the world but perfectly fine for playing at home.
If you plan on gigging or performing on the street perhaps you will need to connect an external speaker (Good Option HERE).
You can also plug headphones into the piano so you can pop them on and block out any distractions around you and prevents you from disturbing the neighbours, parents or whatever.
Unfortunately the headphones are not included unless you buy one of the bundles that Amazon offers (HERE).
How Much Does The Yamaha P71 Cost?
No products found.
For a Yamaha P71 and a keyboard stand (which you will most likely need), it will cost you around $450 for both.
For that price you are getting a brilliant piano for beginners or home use, that performs well and isn't too expensive.
If you are serious about learning piano, the Yamaha P45 or P71 would be a great place to start.
To be honest I don't see the point in buying a piece of crap for around $100 that won't last you a year and sounds terrible. Invest in yourself and your piano (just my opinion).
If you are unsure about buying the Yamaha P45 or Yamaha P71, I would at least check out the reviews on Amazon for some reassurances.
There's also over 300 questions in their review section about the digital piano that will likely answer any further questions or thoughts you might have.
---
Where Can I Buy The Yamaha P45 and P71
You can pick up the Yamaha P45 in many music stores or online retailers. I like Amazon. You can find the Yamaha P45 for a very reasonable price there.
Thomann is probably the largest online reseller of music instruments in Europe and are now starting to expand and grow in popularity in the US.
There's some Yamaha P45 bundles available on Amazon also that include keyboard stands, a bench, headphones etc all in one.
The Yamaha P71 is only sold on Amazon exclusively. You might find some on craigslist or eBay but these will most likely be used.
Personally when I buy anything electrical, I like to buy new only for warranty and come back purposes.
I'm just that bit more comfortable if something was to go wrong. Dealing with a used reseller or private seller on eBay/Craigslist can be a pain. Not always of course.
But I would be more than happy to buy a used acoustic guitar off eBay.
---
Yamaha P45 vs Yamaha P71
Like we have already established in this post, there's no difference between the P45 and P71. All you would need to do is decide where to buy yours.
I hope this posts clears up and concerns or thoughts you had about the Yamaha P45 vs P71. They are the exact same digital piano with a different model number on it. Silly I know, but at least now you know.
If you are thinking of getting a piano or want to learn piano online , I would try Piano For All (Discount Link HERE).
It's a great affordable course that can have you playing piano in a few days.
---
Disclaimer
Keep in mind that we may receive commissions when you click our links and make purchases to fund this website so we can continue to create amazing reviews for our readers. However, this does not impact our reviews and comparisons. We try our best to keep things fair and balanced, in order to help you make the best choice for you.