Top 7 Best Guitar Amps With Built-In Digital Effects in 2022
Looking for a guitar amp with built-in digital effects? From wireless marvels to powerhouse portable amps, from workhorses to premium options, we've rounded up the best options available to help you make the right choice.
Musicians are tremendously hungry for portability and convenience. In fact, the early digital amps like Line 6 Spider were made to cater to these exact needs. Although they weren't readily accepted by the guitar community a few years ago, today they have become all the rage – and for good reason.
Today, many 'regular' solid-state guitar amps offer some form of digital effects. However, we aren't looking at built-in reverb or an odd effect or two in the amps for this roundup. Instead, I've selected amps that are tech-savy with a companion app, a built-in processor and top shelf digital modeling amps.
These amps offer multiple options ranging from chorus, phaser, distortion, flanger, and others time-based effects. Modeling amps, on the other hand, include amps with dozens of presets based on digital simulations of classic amp heads and speaker cabinets with presets, customization, and pairing options.
Some 'jack of all' amps in our list provide both of these features, while others specialize in one category. Either way, the 7 options we look at in this post are among the best amps with digital effects. They span from the modest sub-$200 category options to the more expensive amps with full-voiced heads and cabs.
I've intentionally reviewed the more affordable models of each series, however, you can buy most of these amps with additional power and a few more bells and whistles. Now, without much ado, let's dive into the individual reviews in the roundup.
Best Guitar Amplifiers with Digital Effects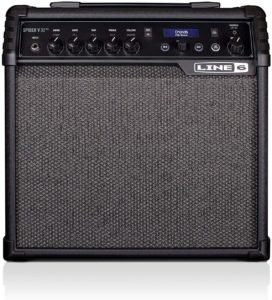 Line 6 is the OG when it comes to amp modeling and the Spider Series the big cheese in the category. It has come a long way from being dismissed as a fad, to reigning the market with the 5th generation of amp modeling technology – now available with the option of a G10T wireless transmitter to go completely wireless.
As for the amp, the Line 6 Spider V 30 features an 8-inch speaker with the option to toggle between the Classic Speaker and Full-Range Speaker mode. It offers a staggering 200 amp, cabinet, and effects models and 128 presets that can be further customized or mixed and matched to sculpt your guitar tone to taste.
The control panel sports a swanky, backlit LCD screen alongside knobs to tweak the volume, gain, and EQ. It also has a USB recording port and a Spider app (for iOS + Android) that allows you to adjust presets and parameters via your smartphone. Lastly, you have the option of using a Line 6 FBV footswitch with the amp if needed.
The amp also features a metronome, chromatic tuner, headphone jack, drum machine (w/ built-in drum loops), and an aux input. In other words, you get everything you need to practice – except motivation. This adds more value to an amp that is already punching way above its price tag.
Tonally, it can do anything from chunk to funk, metal to rock, and some country honk for good measure. It zips through a wide range of tones that will appease players from every style and genre, and it does so with distinction.
As far as practice amps go, Line 6 delivers an absolute winner that is a worthwhile addition to any home studio or rig. The classic speaker setting sounds organic while the full-range speaker sounds well-defined. It can be used to perform at small to medium-sized venues.
Overall, the Line 6 Spider V MKII is an impressive option under $200 that is leagues ahead of the competition in terms of features and options. It caps at 30W, but if the power is sufficient, it has more presets and digital tools that you can outgrow anytime soon.
Product Highlights:
Sounds superb for practice and jams
Simple to use with color-coded visuals
Full wireless compatibility & USB
Huge range of effects and amps
Best option under $200
#2 Marshall Code 50 – 50 watt Combo Amp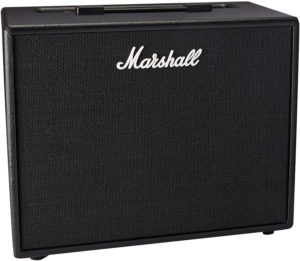 Marshall may have been late to the digital amp modeling party, but they did enter the room in style with the Code Series. The Marshall Code 50 offers a glorious gamut of 14 Marshall preamps, 4 power amps, 8 cabs, and over 100 presets. It also has 24 built-in effects, five of which can be played simultaneously.
The Code 50 construction boasts of a minimalist design with a Baltic birch wood + fiberboard enclosure and a black vinyl finish. The cab houses a hefty 12-inch Marshall Custom speaker with 4 Ohm impedance. While the large speaker adds to the size and weight (29lbs) of the amp, it is still fairly portable.
The front panel is split between 'hold-to-edit' buttons to access the effects/presents and a control panel featuring 6 knobs to control volume, gain, bass, mid, and treble. It also features slots for USB, music players, headphones, and an edit button for the presets. The effects range from modulations to reverbs to delay and all the pre-FX options that most guitar players desire.
The Marshall Gateway App (free) allows you to connect your smartphone via Bluetooth to control parameters or stream music from your device. Moreover, you can access thousands of presets created and uploaded by other Code users from all over the world via the MyMarshall library. As for accessories, you have the option to buy the PEDL-91010 footswitch (not included) and a dust cover as add-on purchases.
Overall, the Code 50 is a versatile amp that lays an iconic sound and immense modeling potential at your fingertips. It does this at an astonishing price, which results in a lot of tone per dollar spent. You can opt for Code 100 if you need more power. It may be a tad heavy, but I highly recommend it as an all-in-one amp for rehearsals, recordings, or live performances.
Product Highlights:
Legendary Marshall Tones in a single unit
Huge range of cabs and amps
USB + Bluetooth Connectivity
Gateway app & MyMarshall library
Excellent value for money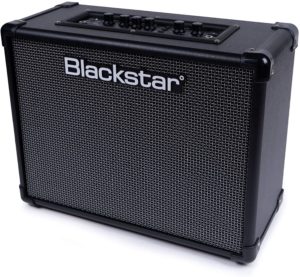 The Core Series is undoubtedly a feather in Blackstar's cap. With it, they have created a unique and powerful offering that has no direct equivalent in the market. The Core Stereo 40 offers great features and functionality in a light, portable, and cleverly designed amp. It can be used with acoustic and electric guitars, and it true stereo effects at a highly competitive price.
The CS40 has 12 built-in effects that include delay, reverb, and several modulations. The modulations include flanger, phaser, chorus, and other dynamic effects that use stereo enhancements. Each effect has four variations when combined with the rotary control. The amp also features a tap-tempo button for rates and a wet/dry knob to blend the audio signals.
The six-position voicing is the real highlight of the Core series. It allows you to access clean, crunch, and overdrive tones in an instant. The amp sounds great with the OD1 and OD2 settings for punchy hard rock licks and aggressive metal riffs. The clean tones are warm, with an emphasis on the mids with an overall rich and natural sound.
The crunch/super crunch tones are great for rock and blues rhythm or solo playing. The ISF control (a Blackstar specialty) lets to dial in mid-rich Brit tones and hi-gain American amp tones. The Insider App can be accessed via the USB to access a built-in tuner or to program patches and save them on the amp.
Additionally, you can use the USB connector to record the amp directly to a laptop or PC in stereo or mono. Overall, the Core Stereo 40 sounds versatile and impressive, although it does falter a little at very high gain settings. It can do a stand-up job for rehearsals and practice, but it won't satiate guitarists who want an amp for live performances.
Product Highlights:
True stereo sound with 40W power
Versatile tone w/ rich low end
Excellent effects in mono & stereo
Not powerful enough for gigging
Great value for money
After the grand success of the THR10 home amp, Yamaha introduced the 2nd Gen THR30 II, a retro-looking desktop amp with futuristic technology and fantastic sound. It features true wireless tech from Line 6 in a boombox-sized unit with three separate circuits: Modern, Classic, and Boutique, each with a convincing flavor profile.
The amp knob lets you dial in six tones that include clean, crunch, lead, hi-gain, and a special tone. You can also use the bass, flat and acoustic buttons to toggle between the sounds based on what instrument you've plugged in. The tap tempo button also doubles up as a tuner with a neat LCD beside it.
The THR30 II has 5 user memory banks that can be saved as presets and an effect knob to toggle between chorus, flanger, phaser, and tremolo. Plus, the dedicated echo/reverb knob lets you dial in 4 different time-based effects. This means you can add crunch, flanger, and spring reverb, or other multi-effect combinations simultaneously.
While the tone and performance of the amp are fantastic, it takes the cake when it comes to convenience. The amp is truly wireless and eliminates the need for almost all the usual guitar accessories. It can handle 4 to 5 hours of jam play and lasts much longer as a Bluetooth speaker. The USB connection allows you to record direct to the laptop and the Yamaha companion app allows you to dial in a wide variety of tones with granular controls.
The 2nd Gen THR30 has ushered in the new era of amp technology that will serve as a yardstick for its competitors. It is a forward-thinking amp that doubles up as a Bluetooth speaker and an audio interface. The only drawback, other than the price, is that the THR30 II isn't powerful enough for most live applications on stage. However, in every other aspect, it boasts of a near-perfect score.
Product Highlights:
Excellent sound
Intuitive, easy to use design
Top-notch wireless features
Outstanding companion app and connectivity
Pricey but offers excellent value
I've included Bugera's AC60 to ensure that acoustic guitarists don't feel left out. Since this is the only acoustic amp of the roundup, it took a lot of research before settling on the right choice. There are some expensive contenders like Fishman's LoudBox Mini and other Fender or Marshall acoustic amps, but the AC60 squares up to them in performance and beats them, hands down, on price.
Bugera offers a 60W of power with two independently controlled channels and a handful of effects. At under 15 lbs, it packs a mighty punch with the right amount of flexibility through dedicated EQs and Line/Mic switch to select the input source on each channel. Despite the modest 8-inch Turbosound speaker, it sounds loud and retains good character at high volumes.
The top panel has knobs to access the built-in effects of the Klark Teknik FX processor. You have 3 settings for the delay, 3 for chorus, 7 for reverb, and 3 for delay + chorus. It also includes 16 presets that add to the ease of use of an already straightforward amp. The active EQ panel allows you to adjust gain, bass, treble, and mids.
From Taylor to Yamaha, the amp sounds warm and transparent for 'unplugged' acoustic applications. The second channel does an equally impressive job with a sharp crisp tone that sounds brilliant on vocals. The High/Low switch can be handy, especially with the clip indicator to visually monitor the gain setting during performances.
If you consider the price, the Bugera AC60 immense functionality, and features that yield eminently listenable sounds. It makes a great bench amp for practice and can also double up as a companion for pit band gigs or solo performances in cafes and upscale restaurants. It may not be the 'best sounding amp', but pound for pound it offers the most value in the current crop.
Product Highlights:
Portable 60W Acoustic Guitar Amp
2 Channels for Guitar + Vocals
Built-in chorus, delay, and reverb
Versatile tone and good features
Competitively price – Best Budget Option
Inspired by the blazing success of the first edition, Boss launched the 2nd edition Katana 50 with several upgrades and headline changes to an amp that was already the top recommendation for sub-$500 amps. The solid-state 50W amp has a streamlined MDF cab that is packed to the brim with features, tones, and options.
For starters, you can switch the wattage to go from loud and proud to bedroom friendly, which makes this one of the most versatile amps in the category. It has full USB capabilities for recording and performs as well, if not better than most of the competition. At heart, the amp offers 5 amp models that include clean, crunch, acoustic, lead, and brown tone.
Besides, you have several effects – similar to Boss stompboxes – such as tremolo, flanger, auto-wah, harmonizers, and chorus. It also has creamy overdrive and hot-rod distortion tones that sound great for rock and metal. The features are so vast that it would need a comprehensive video to demo the true capabilities of the amp.
Tone-wise, the Katana is second to none. Its exceptional preamp is a tone sculpting star, but it also offers power amp-only functionality by bypassing the preamp to use the amp as a guitar digital effects processor. The tones and effects are both top notch and the channels do exactly as advertised. From warm clean tones to subtle boost to face-melting distortion, the Boss Katana 50 excels on every level. Plus, it allows you to access an ever-growing database of user-presets.
Boss also offers two other excellent choices for those who want more power and tone: the Katana 100 and Katana 100/212. They are essentially the same unit with the addition of additional power, an FX loop, and more channels. The 100/212 houses 2 x 12-inch speakers. You can also check the more advanced (and expensive) Katana Artist and Head models if they suit your needs. Regardless of the option you choose, you are assured of a lot of bang for your buck.
Product Highlights:
Feature-packed stage & studio amp
Exceptional tones and usable presets
Practice, stage, and studio friendly
Great app, connectivity & recording options
Excellent value for money
Fender Mustang GT40 has been flying off the shelves ever since its release, and for good reason. This all-black compact amp hosts a pair of 6.5″ speakers with 20W per side in stereo. The ported enclosure, aluminum Fender logo, and grill cloth give it a minimal but classy vibe. It offers built-in digital effects, modeling, a 1/8-inch headphone out. You can also buy the optional MGT-4 footswitch to control presets and effects.
Speaking of effects and modeling, the GT40 is packed with 20 options of Fender amps ranging from Blackface to Tweed and everything in between. The 100+ presets are no slouch either. Each of them is usable and playable with little to no tweaking required. Either way, the app and touch panel allows you to make all the adjustments required.
The amp has a traditional EQ panel with knobs for gain, volume, treble, bass, and master volume. The advanced features include a full-color display screen, 60-second looper, the 'push to select' rotary knob, and soft-touch buttons. As for the effects, you get access to stomp-boxes style modulations like pitch shift, flanger, tremolo, and time-based effects like echo/delay and reverb.
Moreover, you can chain the expression pedal to the MGT-4 footswitch to control parameters like wah. Lastly, the GT40 is fully Bluetooth controlled and even has Wi-Fi. You can connect it to your phone using the Fender Tone app or connect to the internet (via the amp) without a PC or any other device. It allows you to download presets or patches on the fly or the amp automatically installs firmware updates.
Check out the Official Fender video that does a great job at demonstrating this amp's capability:
Embed: https://www.youtube.com/watch?v=vvRH9YEPCqM&feature=emb_logo
In many ways, the GT40 is the equivalent of owning multiple amps and effects in a simple and easy-to-use box. It is stylish, compact, and cleverly designed. While the distortion tones could have been better, it still stands as a benchmark for wonderful technology, superb sounds, and an affordable price tag. If you want more power, you can opt for the Mustang GT 100 or GT 200.
Product Highlights:
Killer tones and excellent features
20+ amps and 30+ effects included
60-sec built-in looper for jam and practice
100 highly usable presets
Optional footswitch and expression pedal
Top pick for this roundup
Final Thoughts
This roundup showcase the stellar advancements in digital modeling technology. More importantly, they demonstrate the creativity of amp manufacturers who continue to entice us with brilliant designs and feature-packed options at cut-throat prices. Most of the options carry a brand name because it does take great tone know-how to make digital guitar amps.
Whether you need a digital modeling amp for practice or a versatile acoustic amp for performance and recording, I've provided a plethora of options that are powerful and budget friendly. While I personally love the Mustang GT40, the Code 50 and Katana are also great options. It will, however, boil down to your use, needs, and budget. I hope this roundup will narrow down your choices and make that decision easy. As always, happy hunting!