Buying A Guitar On eBay | How To Get A Bargain
Buying a guitar on Ebay is a lot more popular than you think. There's some great deals to be found on eBay. Not just used guitars, but brand new ones as well. I am here to walk you through buying a guitar on eBay. I'll give you tips on what to look out for and how to bag yourself a bargain.
How To Buy A Guitar On eBay
If you are just browsing, it might be hard to find exactly what your looking for. But, if you can, try and have an idea on what you want. It will help in finding a great deal, and also speed up the process.
Enter the model or brand of guitar you are looking for and have a look around. Once you know what you are looking for, you can narrow your search and do an in depth advanced guitar search.
---
Buying A Guitar On eBay Guide
Searching For A Guitar On eBay
It's so simple to find guitars to buy on Ebay. There's 1000's to choose from.
Lets start simple and just search "Guitar". See below some listing.
Use Filters
From here you can filter your search on the left hand side of the screen. You can see in the image above how you can filter by String Config, Brand, Body Type, etc.
Ok! I have an idea on what I want. I'm looking for a 6 String Guitar, made by Fender and in New condition. You can see my filters below and the search results it left me with.
Check Sold Listings
Once you have a good idea on the type of guitar you want. Check out what price it's selling at. This is very easy to do.
Down the left hand hand column, you can find an option called "Sold Listings". What this will do is show you all the recent sales of similar listings.
Compare these sold listings against the guitar you are thinking of buying. I usually open two internet tabs for this, as it's easier to click back and forth.
You can also narrow these filters more to match the listing you are interested in. For example by condition, model, etc. You can then be sure the sold listing you are comparing match the attributes of the guitar you are trying to buy.
Check Seller Feedback
This is crucial. The majority of sellers on eBay are good, honest sellers. However, like anything other business, there's some bad apples.
Sellers have a feedback score that is rated by it's customers. The sellers feedback is score is displayed in the top right hand corner of the listing page. See below.

Check their seller feedback score. Most of the top rated sellers could have a "top rated seller" batch under their score. I personally would not buy from anyone with seller feedback score under 95%. Usually higher to be honest.
You can read other peoples experiences with this seller. This makes you more comfortable buying from this seller.
Read The Listing In Detail
This is probably one of the most important things you need to do when buying a guitar on eBay. The seller is required to list all key info about the product.
The pics might looks great, the price is perfect, but there could be small little details in description that seller might disclose and you completely miss.
For example, the guitar could have a broken guitar strap or maybe has some minor damage to it. The seller must disclose this information in the listing.
If you buy a guitar with some damage (marks/scratches), but the seller as clearly identified this in the listing, you have no come back afterwards.
Contact The Seller
If I am buying a guitar, particularly a used guitar, I usually reach out to the seller and ask them about the condition. Sometimes the descriptions can be very vague and be in a lot worse condition that you think.
To clear my mind, I drop the seller a quick message like this:"
"Hey, I am interested in buying your guitar on eBay. I am just curious before buying is there any damage done to the guitar? For example major scratches, dents etc? If there is any damage or condition notes I should be aware of, would it be possible to send photo's of the marks please. "
---
How To Buy A Guitar On eBay
Buy It Now
Buy it Now means you buy at the price the seller has it listed at. There's no auction or anything like that.
If you find a guitar you like, click "Buy It Now", enter your details and it's yours. Simple as that.
Auction
One of the best and more exciting ways to buying a guitar on eBay. Buying through auction is probably the best way to getting a good deal.
Some sellers, just list guitars for auction only and are happy to sell to the highest bidders. Auction sellers are usually not professional (full time eBay sellers). Most professional sellers will buy and sell at a certain price in order to maintain margin.
See below Auction listings for the filters I had selected earlier.
6 String Guitar > Fender > New Condition > Auction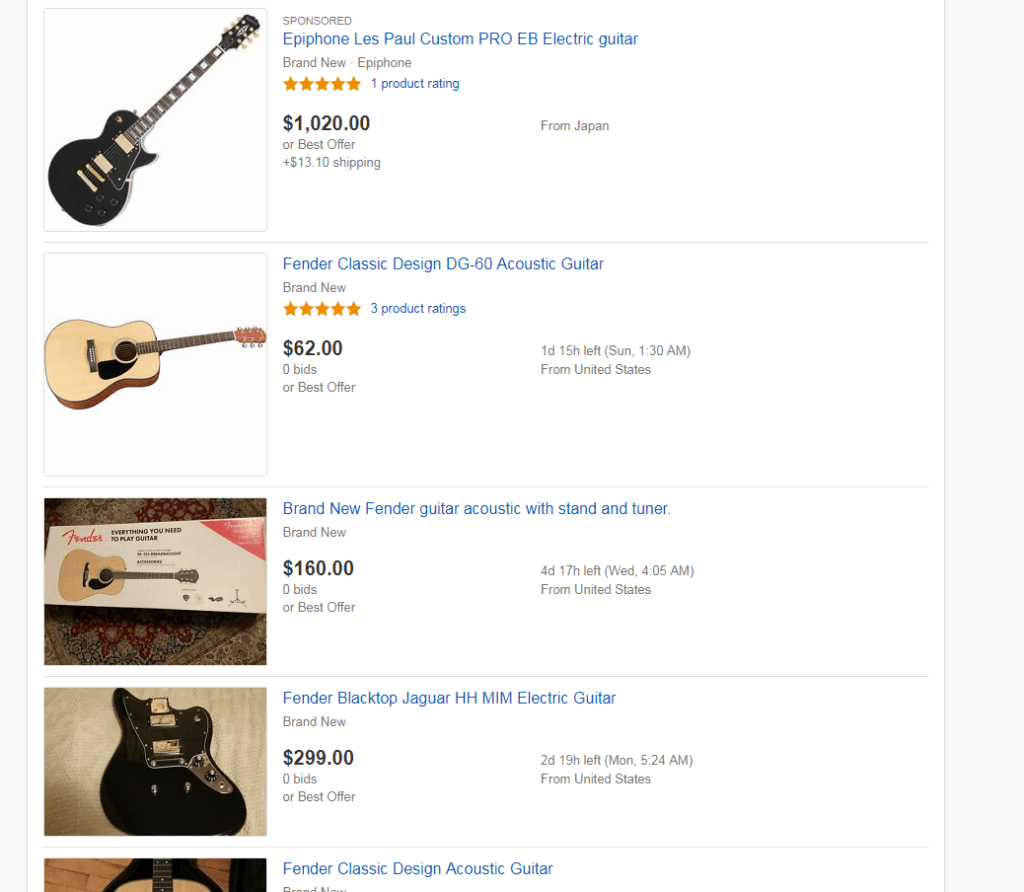 However, Auction listings are best for buying Used equipment and are a lot more common. There's not as many listings for new stock.
Auctions require some discipline and patience. When you find an auction you like, you need to set a budget and stick to it.
The goal is to get a good deal. It's very easy to get carried away in a bidding war. Believe me, I've done it before. It;s exciting to win, but damages your wallet in the end.
When you are comfortable with your budget and have found your guitar, go ahead and submit a bid.
Don't go all in with your max bid. I would bid 30%-40% below my ma bid at first (if that is still higher than the current max). From there you at least leave yourself some room to submit a few higher bids if needed.
If it turns into a bidding war, don't get sucked in. Unless it's a guitar you absolutely want. Some Auctions on eBay can get pretty crazy when the guitars on Auction are in high demand or are extremely rare.
See below an example of a competitive bid that sold for just shy of $10K.
Buy It Now Or Best Offer
This is my favourite way to buy. It's like an auction, but it's more of a negotiation with the seller.
When you see a "Buy It Now or Best Offer", do not just go and buy it now. The seller is willing to accept offers below the listed price, and the best thing is, the seller has likely already set the minimum price he's willing to take.
When you list an item for sale on eBay and decide to sell as "Buy It Now or Best Offer", you can select an option to send offers above a certain level and also automatically accept certain offers.
There's a couple things you can do to get your offers accepted. First thing to do is think about your offer. Check how long the listing has been active. If it's only up a few days, the seller will likely not move too far from the listing price.
However, if the listings is active with over 2 weeks, they could be a little impatient by now and eager to sell. Try not to get too greedy, and submit a fair offer.
If the offer is rejected, don't go back and submit another offer for $1 more. You are limited to a certain number of offers each day.
The number of offers you can make a day on a listing can vary depending on the category, but it's usually 5.
What I do if my first offer is rejected is reach out to the seller. If you ask them, they will tell you what they are willing to accept. I think it's quicker and easier, rather than increasing my offer by a certain percentage each time.
By doing this, you also run the risk of someone else coming in and submitting an offer that's accepted hijacking your bid.
Shipping Charge
It's so easy to get caught up in the price of the guitar, that you can forget the cost of shipping. Just below the listing price, you should see a shipping cost. Just make sure you have your shipping address for your account correct as it uses it by default.
For example, shipping from the US to the UK will be very expensive. So keep an eye out on the shipping costs before you make a bid or buy the guitar.
Leave Feedback
When buying a guitar on eBay, it's important to leave the seller some feedback, but only when everything went smoothly of course. This can help fellow musicians decide on who to buy from on eBay.
---
How To Buy A Guitar On eBay | Summary
If you follow the tips I have provided, you should have no problem buying a guitar on eBay.
Check Sold Listings
Check Seller Feedback
Read The Description In Detail
Contact Seller If You Are Unsure About Something
Make Sure To Take Shipping Charge Into Account.
Disclaimer
Keep in mind that we may receive commissions when you click our links and make purchases to fund this website so we can continue to create amazing reviews for our readers. However, this does not impact our reviews and comparisons. We try our best to keep things fair and balanced, in order to help you make the best choice for you.