How To Buy A Guitar For Beginners
If you are reading this I'm guessing you want some tips on how to buy a guitar for beginners. I am here to help. As you are most likely a beginner, I will keep this pretty simple. These are some things you should consider when buying a starter guitar.
How Much Should You Spend?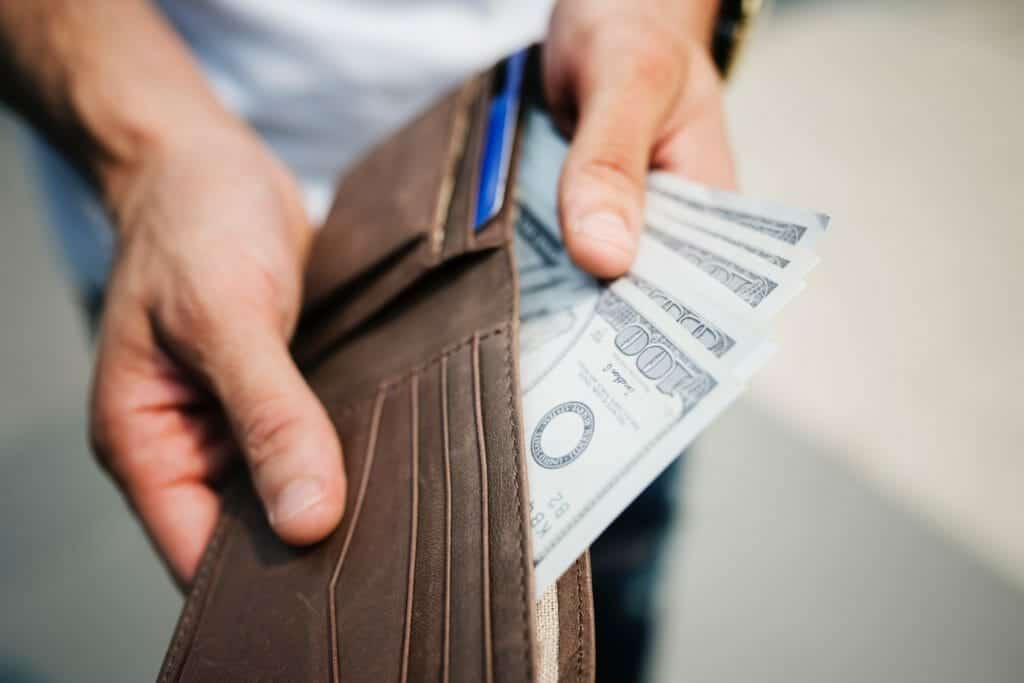 I will jump right into the money. Knowing your budget is very important when you want to know how to buy a beginner guitar.
As you might already know guitars can vary so much in price. Prices can go into the $1000's for some amazing guitars.
But as you are beginner, you don't need to spend that much money. If you are just starting out, I wouldn't spend more than $500.
You should be able to find an excellent beginner guitar for around $200. I have mentioned a couple recommendations below.
If you do plan on spending close to $500, this should be an investment to last you a couple years.
---
Acoustic Or Electric Guitar?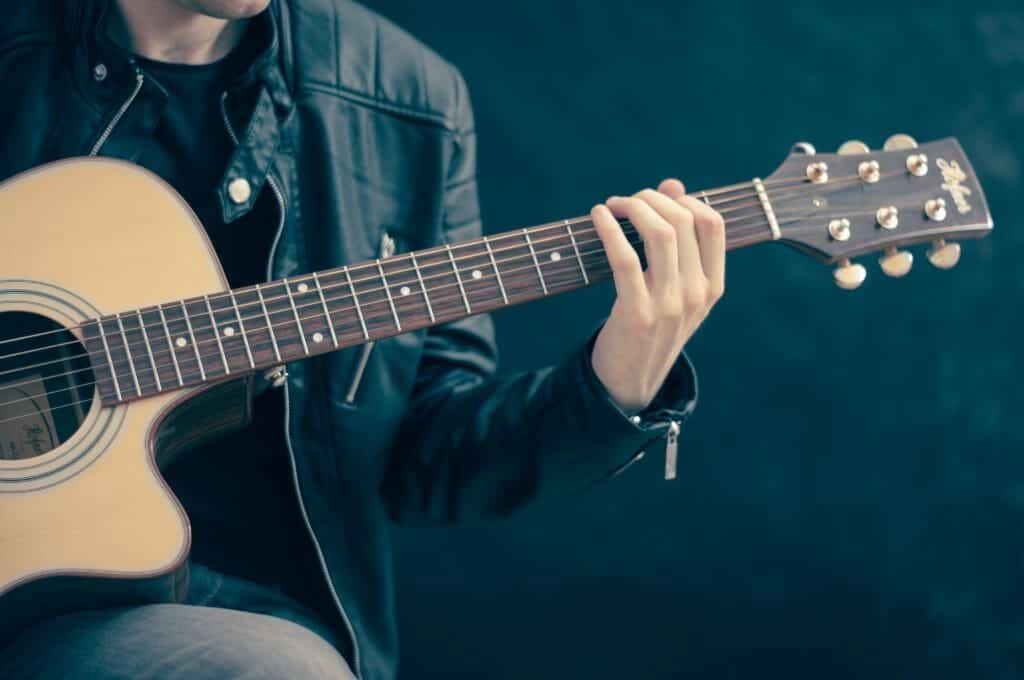 Most beginners tend to start off with an acoustic guitar and branch into electric guitars. But that doesn't need to be the case.
I would decide based on the type of music you like and want to play. Either acoustic or electric are both fine to start off learning to play.
You want to have fun and enjoy learning to play. Do you want to play more acoustic type songs or electric rock songs?
Beginner Acoustic guitars are cheaper to buy than Electric guitars. Electric guitars also require an amp to play properly really, so you will also need to factor in that cost. But you can pick up small ones pretty cheap really for less than $50.
---
Consider Buying A Used Guitar
You don't need to buy a brand new guitar. You can find some excellent used guitars if you just know where to start looking.
eBay and Craigslist are two great options to pick up a used guitar at a reasonable price.
Check out some eBay guitar listings and filter by used. You should find some nice options available. However, I would make sure the seller has a high feedback score before buying.
Keep a look out for some local car boot sales or garage sales in your area. You might get lucky and pick up a guitar for a bargain.
There's two main disadvantages buying a used guitar.
No Warranty (In most cases)
You need to know what you are looking for.
As you are a beginner, it will be hard for you to spot any problems or issues with the guitar. If you have a friend who's a musician, it wouldn't be a bad idea to ask them to tag along.
If you do not know anyone with some guitar knowledge, then maybe a new guitar would be the best option for you. Check out some amazon reviews from beginners like you.
If you do want to buy a new beginner electric guitar, this post might help you pick one.
---
Don't Always Go For Named Brands
You don't need to go out and buy the latest Fender guitar. Find one that fits your budget, looks good but does the job. There's plenty lesser known brands that do the job very well.
Amazon is a great place to check out. Search "beginner guitar" or "starter guitar". You will see tonnes of listings with plenty of reviews.
Find some listings with high amounts of orders and reviews. What have previous buyers have said about those guitars?
---
Ask A Friend For Help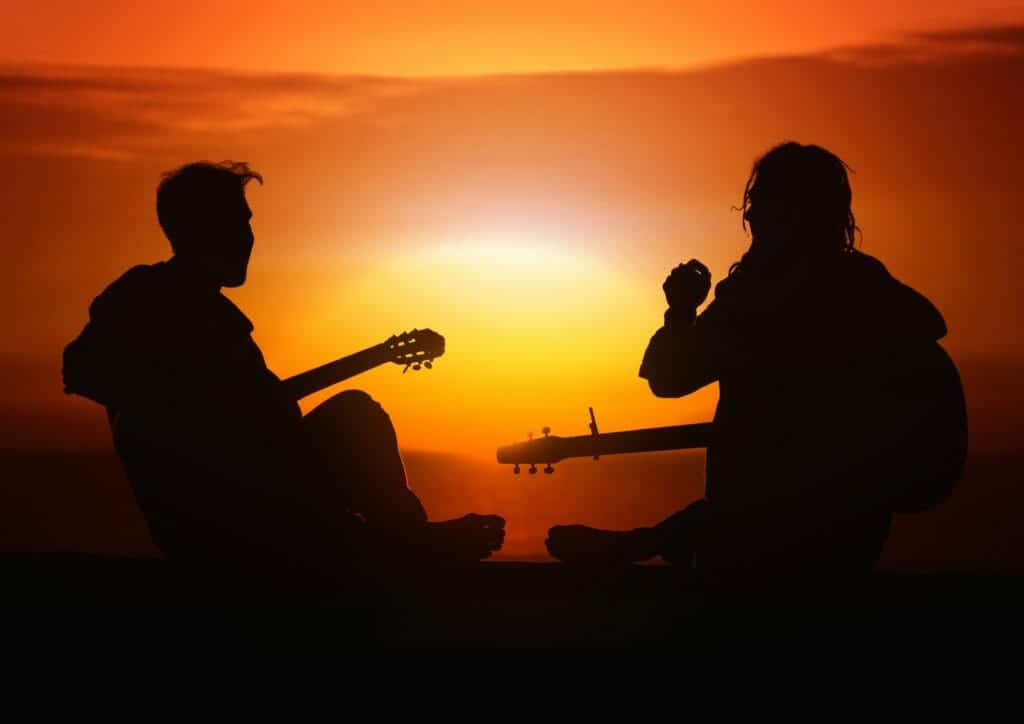 Do you have any friends or family that can play guitar? Maybe a local musician might be able to help you out.
Hopefully they can give you some feedback and tips on what they learned buying a guitar and what to avoid.
They might offer insightful tips on a certain type of guitar to avoid for different types of music (for example acoustic or electric).
If you are lucky, they could have an old one they are not using that you could buy for cheap or free to take away.
---
Speak To A Someone In Store
If you are unsure about buying one on your own online, you should maybe try checking some out in a store.
Do a quick google search for "guitar stores near me". You should get a few hits. Pop into a couple stores and ask someone in store what they would recommend for beginners.
Make sure you stick to your budget. It's very easy to get carried away with the kid in the candy store syndrome and want to buy everything.
Someone in store should be able to point you in the right direction. But try and stick to your budget.
---
Acoustic Guitar Recommendations
Seagul S6
The Seagul S6 is a very popular steel string that's perfect for beginners. The Seagul S6 is well known as a brilliant starter option to start learning guitar.
It's extremely easy to play and a poplar guitar that beginners can use right up to advanced level.
The Seagul S6 is well made with quality wood and produces an amazing mid range sound with stable tuning.
It's a little high on the price range and would be the max I would pay your first guitar. At the time of this post, it's just under $500.
But, if you are serious about learning acoustic guitar. This guitar last you a number of years and I guarantee you will struggle to part ways with it.
---
Yamaha FG 830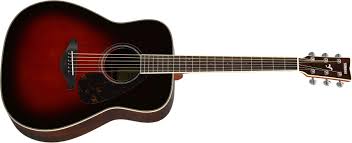 Why is the Yamaha FG 830 perfect for beginners? The Yamaha FG models have a strong reputation for being quality made and providing the highest quality sound.
I know it's important for the guitar to sound amazing. But this is your first guitar. It must also be a really nice looking guitar. Owning your first guitar is a proud moment, and you want to show it off.
The Yamaha FG 830 has 6 cool finishes that I'm sure one will stand out to you. If you check the link below you can see the options available to you. Plus you can pick one up for about $299.
---
Electric Guitars Recommendations
Epiphone SG-Special
The Epiphone SG Special is a brilliant electric guitar that any beginner would be lucky to have.
With the SG Special, you are getting the famous SG sound quality without spending a fortune.
Remember this is your first guitar, so we don't want to go top shelf right away, but want something that sounds good and can last for a few years until we get more advanced.
It's iconic rock styling will appeal to many. The SG models are consistently some of the best sellers on the market year after year.
The SG Special is one of the best beginner electric guitars, hands down. Well worth a look. Especially when you can pick it up for less than $180 on most online stores.
---
Epiphone Les Paul 100
If you are looking for one of the best electric guitars for beginners, well this could be the one for you.
The Les Paul 100 is without a doubt one of the most popular over the years. It has been an entry level electric guitar for beginners that made them Epiphone fans for life.
The Les Paul 100 has the classic Les Paul style. The mahogany neck and body with a maple top is a really cool finish that I just love. The LP 100 is also a little slim and lightweight. So it's not too heavy when starting out.
The tone of the LP 100 is really nice and perfect if you are looking for mid range tones. If you are into your Rock n Roll, this could be the best option for you.
It is a little more on the costly side around $500. But it boasts the Epiphone Les Paul badge which might not mean much to you as a beginner but it will impress more experienced musicians.
---
Don't Forget Your Accessories
I said I would help you how to buy a guitar for beginners, and I think I have done that. But here's a little a few little things you should pick up.
It's very easy to get all excited and spending as much money as you can on your dream guitar. But don't forget the little accessories you need to really are worth while. It's like spending all your money on golf clubs but having no money left over for a golf bag.
Guitar Amp
If you are buying an electric guitar, you will need a guitar amp. Nothing major but a small one will do for some bedroom jamming.
You should pick up a decent guitar amp for less than $50. Don't neglect buying one if possible, especially buying an electric guitar. It's a bit of a waste buying a great beginner electric guitar, without having the gear to support it.
I Recommend the Fender Mustang LT25, Find It On Sam Ash HERE.
Guitar Stool
Now before you laugh, speak to someone who has knows how to play guitar and how sore it can be at the beginning.
When you are playing guitar, you naturally slouch when holding the guitar. This can be painful after awhile, especially if you plan on playing for a few hours.
A small foot stool avoids this neck and back pain. The footstool elevates the guitar for you and makes it easier to play. Trust me this can be worth while.You can pick up a guitar stool on Amazon for around $15.
If you don't want to spend any money on one, look for a small box or stack of books. This will do the trick also.
---
How To Buy A Guitar For Beginners
Well, I hope this post was of some help to you and will point you in the right direction buying a guitar for beginners.
If you are looking for some help learning to play guitar, I would check out this post on guitar lessons for beginners.
If you have any questions or there's something you need some help with, don't be afraid to reach out to me or leave a comment below.
---
Disclaimer
Keep in mind that we may receive commissions when you click our links and make purchases to fund this website so we can continue to create amazing reviews for our readers. However, this does not impact our reviews and comparisons. We try our best to keep things fair and balanced, in order to help you make the best choice for you.