How Much Should I Spend On My First Guitar
How much should I spend on my first guitar? It's a common enough question. If you want a straight answer on how much you should spend on your first guitar; I would say between $200-$400.
Personally I wouldn't spend more than $400. As a beginner you don't need to really.
If you are unsure whether guitar is for you and you are just trying it out, don't spend more than $200.
Amazon is one of the best places to pick up a good starter guitar for a relatively low cost.
I love buying off Amazon because of the reviews. Read the reviews, find out what other people said about it and see if it's right for you.
Scroll down a little, I have made a couple recommendations below.
---
Should I Buy an Acoustic or Electric Guitar For My First Guitar?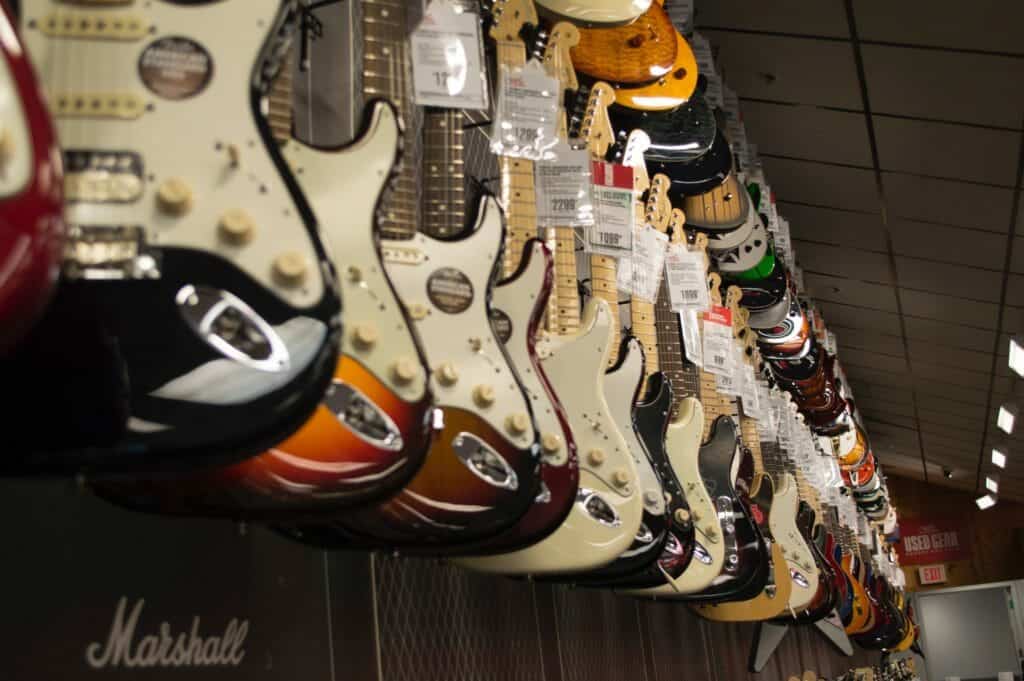 Acoustic is probably to cheapest to start off with but only slightly. When you buy an electric guitar you will need to get a small amp to play it properly, but these can be got for around $30.
The main question you will need to ask yourself is what type of music do you want to play? Is it more suited to acoustic or electric?
If you had to pick one now this second, which would you pick? I'd go with that one. Learning guitar is all about having fun and enjoying playing. Get the right guitar for you.
---
Good Beginner Guitars That Aren't Expensive
I will split this into two sections as I don't know are you looking for an acoustic or electric guitar. So I'll give you options for both.
If you are buying a guitar for a child, I would refer to the full guide I did on that as its a little more complicated as you need to know the right sizes to get the right guitar for child's age and size.
Best Acoustic Guitar For Beginners?
I will keep this pretty simple and limit my recommendations to one. One model that I am sure will be the perfect starter guitar that performs well enough to last you a few years and also does not break the bank.
No products found.
Yamaha's FG series was introduced in the 60's. To this day it's one still one of the best selling models available.
Why is the Yamaha FG 800 perfect for beginners? Well, Yamaha FG models have a strong reputation for being quality made and providing the highest quality sound.
The FG 830 has a beautiful stronger sound that's louder when it projects. It's perfect for those low to mid-ranges acoustic songs.
I know it's important for the guitar to sound amazing. But this is your first guitar.
You want it to sound amazing of course, but you also want it to look amazing. The Yamaha FG 800 definitely looks amazing.
---
Best Electric Guitars For Beginners?
I have done a full post on this already you can read HERE. It recommends a number of electric guitars that are prefect for beginners and well worth checking out.
No products found.
If you are looking for one of the best electric guitars for beginners, well this could be the one for you.
Without a doubt one of the most popular over the years. The Les Paul 100 has been an entry level electric guitar for beginners that made them Epiphone fans for life.
The Les Paul 100 has the classic Les Paul style with it's mahogany neck and body with a maple top.
The LP 100 is quiet lightweight and a little slim. This really is a beautiful looking guitar.
The tone of the LP 100 is really nice and perfect if you are looking for mid range tones.
It's quiet loud when it wants to be, so if you are into hard rock, this could be the one for you. If you like subtle low sounds then maybe look else.
It is a little more on the costly side around $300. But it boasts the Epiphone Les Paul badge which might not appeal to you as a beginner but will speak to enthusiast guitarists and musicians.
If you are serious about learning guitar, this could be a great choice. It shows you are take pride in your equipment.
---
Where To Find A Bargain?
If you want to find something a little cheaper I would look at buying a guitar on eBay, craigslist or maybe some local garage sales.
I have a full guide on buying guitars on eBay thats worth checking out. It offers some tips on how the get a bargain and more importantly how to buy one safely from a good buyer.
The last thing you want is to be screwed over by a bad seller and get stuck with a crap damaged guitar with no come back.
Craigslist and garage sales are other great options to look at. You can search on your local craigslist for some guitars and see if they are some for sale.
Better yet there could be some of them available for free; but I wouldn't expect these to be in great condition or in perfect working order; but who knows.
If you do decide to but one one craigslist or at a garage sale; do try and bring someone with you who knows a little about guitars. Someone with some guitar knowledge will be helpful.
Personally when starting out; I would be more excited about the idea of buying something brand new; that works and I know is a good first guitar for a beginner.
---
How Much Should I Spend On My First Guitar?
So How Much Should I Spend On My First Guitar? The amount you decide to spend on your first guitar is completely up to you.
I offered some guidelines in case you have no idea; but anywhere between $200-$400 should get you a good first guitar for anyone just starting to learn to play.
There are many factors that can affect how much you want to invest such as your budget, type of guitar you want and more importantly how serious you are about learning guitar.
Make the right decision for you and nobody else. I hope this helps and if you have any questions; be sure to comment below.
---
Disclaimer: We may receive commissions when you click our links and make purchases. However, this does not impact our reviews and comparisons. We try our best to keep things fair and balanced, in order to help you make the best choice for you.