Buying A Guitar For A Child | Everything You Need To Know
When buying a guitar for a child, the main thing you need to know right now is the correct size to get. It can vary a little depending on the size of your child.
I would look up the average height for your child's age and try see what category they fall into below.
---
What Size Guitar Does A Child Need?
Here's the best way I can distinguish the best sized guitar depending on age.
Age 2-5: 1/4 Size Guitar 30″
Age 5-8: 1/2 Size Guitar 34″
Age 9-12: 3/4 Size Guitar 36″
Age 12+ Guitar Size 40-41″
If your child is 12 years old, I would consider an adult sized guitar. When you are buying a guitar, you want it to last at least 2 years.
So if your child is 12, they will quickly grow out of this sized guitar and require an adults one.
So it's probably best to consider an adult's size 40″ + guitar. It's better for them to get used to an adult sized guitar at this age.
You can be a little more confident spending a more money as a full sized guitar can last them a number of years.
---
Acoustic or Electric Guitar For a Child?
This one might require you (the adult) to make the call depending on their age. If they are under 10 maybe it's best to make the call.
As your child gets older, they will have their own tastes in music. You will need to respect that. If you force a certain genre on them they could drop learning guitar altogether. So if they are 10 or over, maybe it's best to ask them.
The other option buying the guitar for a child as a surprise. This way you kind of make their mind up for them and give them a chance to find their own style. This keeps things simple as allows them to develop naturally.
It's common for people start with an acoustic and develop towards an electric guitar. It doesn't matter which one they start with, but generally children's acoustic guitars are cheaper.
Remember an electric guitar really needs an amp to get the right sound and the best out of a guitar, just bare that in mind when budgeting. But you can get some decent amps now for a reasonable price.
However an Amp with an electric guitar means a lot of noise. Just something you should consider, especially if you live in an apartment or have neighbors walls connected to yours.
Maybe a nice acoustic guitar might be the right choice, and you since you don't need to by an amp you can spend a little more on the guitar.
If your child is under 10, I would maybe make the decision for them, or maybe give it to them as gift. If they are older, maybe get them involved in the decision.
What are type of guitar are they excited about playing and practicing with? If they are not excited to play guitar then you are wasting your time and it could be a waste of your money.
You can bring them to a guitar shop to see what they like, but be careful. There's plenty of expensive guitars in a store and they will need to know the limit of your budget, which I will discuss below.
I would try and focus more on the type of music they like rather than the look of the guitar. For example Electric could be Guns n Roses (Rock) and acoustic could be Ed Sheeran.
---
Set Your Budget
This is so important. You need to try and set a budget and stick to it. As an adult you might not worry about going over budget for some guitar you absolutely love and will use everyday.
However, children might not have the same dedication to guitar as you do. As you know well, kids can dislike or become fed up with something quiet quickly.
For this reason, you don't want to spend a fortune on one of the best guitars for a child, only for them to lose interest completely next month. It will sold destroying for you (if you play guitar) and will be a waste of money.
I would not spend more than $300 on a guitar for a child. Unless you are buying an adult sized guitar and are confident your child will play. If that is the case, you could stretch to $500.
You can find a brilliant starter guitar for this price that will be perfect for your child to learn guitar. Don't worry, you can find some cheaper options than this also. I will post some recommendations below.
Try and find something of decent quality. You will want something that is well made and will last for a least 2 years.
---
Best Acoustic Guitar for Kids
Age 2-5 (1/4 Sized) – Lucida LG-510-1/4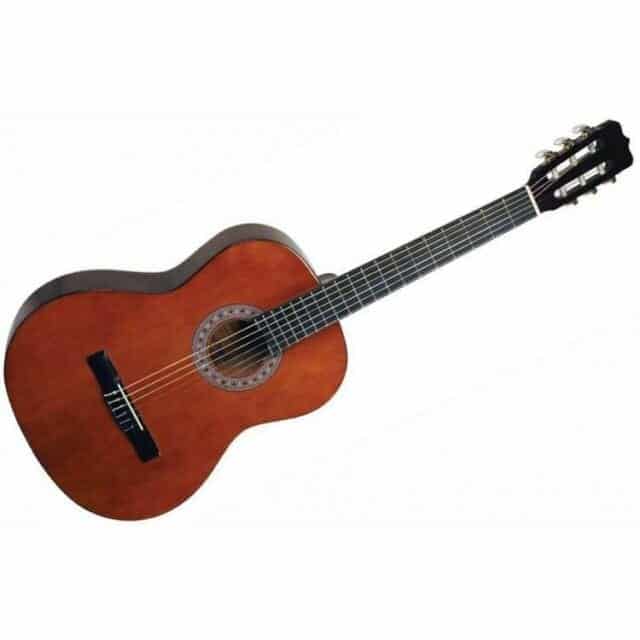 ---
Age 5-9 (1/2 Size 33″) – Yamaha FG JR1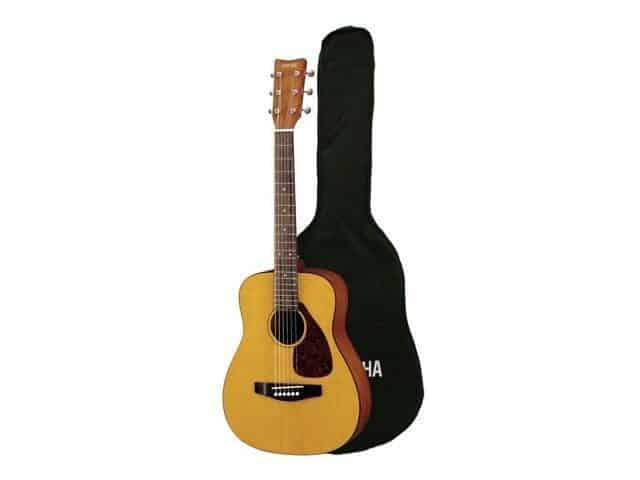 ---
Age 9-12 (3/4 Guitar) – Yamaha JR2 Junior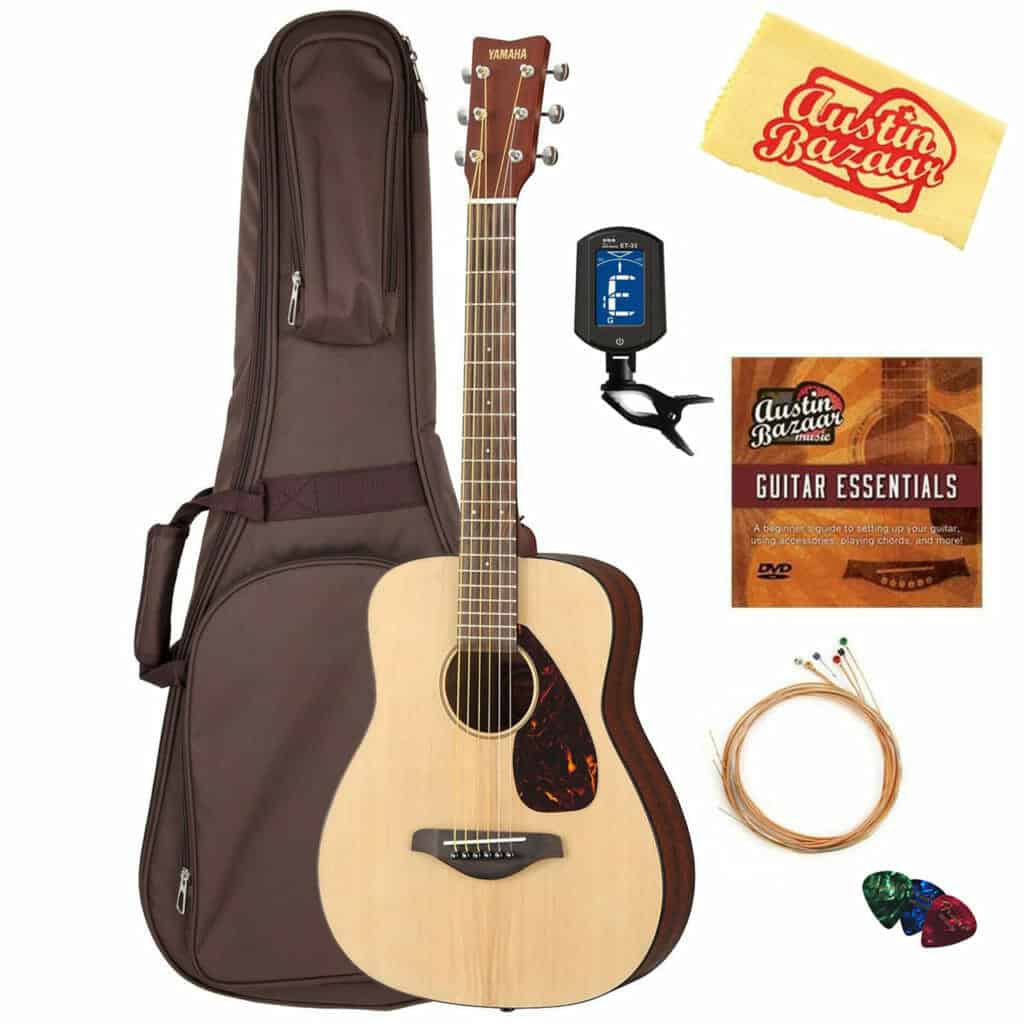 ---
Age 12+ (Guitar Size 40-41″) – Yamaha FG830
---
Best Electric Guitar for Kids
Age 2-5 (1/4 Sized) – Stedman Pro 30″ Kids
---
Age 5-9 (1/2 Size 33″) – Raptor EP5-BK Kids
---
Age 9-12 (3/4 Sized 36″) – Ibanez GRGM21BKN
---
Age 12+ (Size 40-41″) – Epiphone Les Paul 100
---
How To Teach Your Child Guitar?
There's a good chance if your child is interested in playing guitar that you or a family member also knows how to play. If you can play guitar yourself, you could teach them the basics.
After that I would look for an online guitar lessons course. The old school way of learning was getting one to one lessons, but that is so expensive nowadays in my opinion. You no longer need one to one lessons to learn guitar.
You can expect to spend a minimum of $50 on one to one lessons. That's not cheap, especially if your child needs 20 lessons. It's even worse if your child turns around after 20 lessons and says they don't want to play anymore.
One to one lessons are boring for the most part in my opinion. Children's' attention spans are already short enough.
I think there's better solutions out there now with an online guitar course, and I have reasons why I think so.
Cost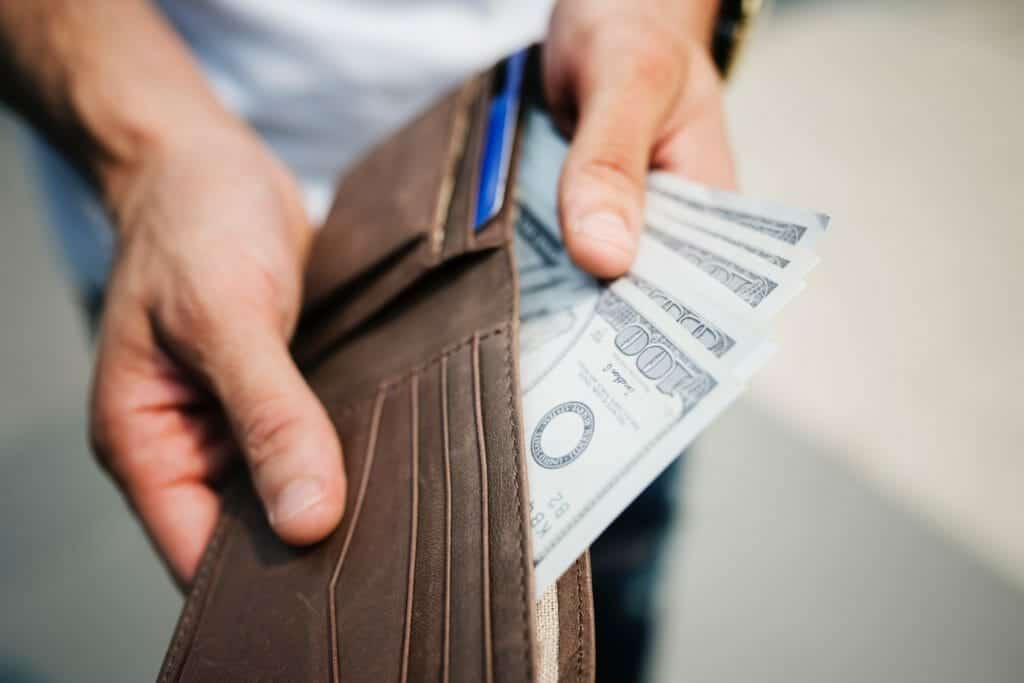 The main one being the cost. There's online courses out there now that can cost less for 5 or 6 months than one single lesson. These are perfect to teach your child how to play guitar at home.
My personal favourite is Guitar Tricks (Review Here). The reason being it's a lot more than just an online guitar course. It's a like your very own social network and community dedicated to learning guitar.
I
t could be something you and your child could use together playing guitar. Check out my review for more detailed info.
You can get a 14 day free trial to check out their program. It's perfect for beginners and can used even at advanced level.
Disclaimer: We may receive commissions when you click our links and make purchases. However, this does not impact our reviews and comparisons. We try our best to keep things fair and balanced, in order to help you make the best choice for you.
Modern Day Learning
I don't need to tell you that kids are better with technology than we were. Every child and teenager now has there head buried into a smartphone, tablet or laptop. Am I right?
An online guitar course could be the best solution for them. They will be more familiar with it and might not brush off the idea so quickly.
I remember when I first learned guitar as a child I was so nervous about getting lessons. The only person I wanted to teach me was my dad. I didn't want one to one lessons with a stranger.
If online options were more available at the time, I think I would've enjoyed learning more. I didn't really like lessons.
Guitar Tricks might be more suited to kids & teens because Guitar Tricks upload detailed step by step song tutorials every week for the latest songs available in the charts.
So you child can play the songs they really like. Not your standard same old songs everyone knows.
If you want a complete package with endless opportunity that can be used even at advanced level then I would consider Guitar Tricks (Review Here).
Another great option is Fender Play. It's a very modern guitar course that costs $9.99 a month. Fender Play is specifically designed for beginners starting to play guitar.
It works as a subscription package for $19.99 per month. Still better than having them binge on Netflix if you ask me.
---
Buying Your Child A Guitar
The key thing is to find out what sized guitar you need. Revert to my guide in the beginning of this post. This will help you determine the right sized guitar you need for you child depending on age.
Decide if they want an acoustic or electric guitar. Not a huge issue as it's perfectly fine to start playing with either to be honest. It's more about personal choice and taste in music.
Set your budget and try and stick to it. Don't spend over $300 on a child's guitar as they will grow out of it quickly.
If you can get them a full sized guitar at all, do try and it will last them a number of years.
Try and set a budget and stick to it. It's very easy yo get excited and buy them the world, but it's heartbreaking if you spend all that money and they decide two months later they don't like the guitar.
I hope this post was helpful to you.
---
Disclaimer: We may receive commissions when you click our links and make purchases. However, this does not impact our reviews and comparisons. We try our best to keep things fair and balanced, in order to help you make the best choice for you.