Most Playable Acoustic Guitars – 5 Options To Consider Now
This buying guide for the Most Playable Acoustic Guitars contains a list of acoustic guitars that enhance playability through features like sound and quality.
Playability and comfort are two terms that are thrown around frequently in the world of acoustic guitars, and if you are planning to buy an acoustic guitar, these two are elements that you should never overlook.
While the comfort of a guitar represents how a guitar feels when you are holding and playing the instrument and it's a factor that depends on the shape and the size of the guitar, playability refers to how the neck of the guitar feels on your fretting hand as you play – think of playability as how easy it is for you to pluck and fret the guitar strings.
Playability is, therefore, an important function to consider when choosing a guitar. Some of the things that will influence the playability of the guitar include the neck action of the guitar, its action, or how high the strings rise above the fretboard, the scale length, gauge of the strings, as well as the neck angle.
Take the neck profile, for example. While it varies between the brands, a guitar with a slim neck profile would be a great option for you because it means that you will be able to wrap your hand around the neck of the guitar to reach the fret notes and to form chords.
Then you have the action of the guitar – the guitars with the best playability have a low action, meaning that you won't have to apply too much pressure to the guitar strings to play. Therefore, some of the most playable acoustic guitars will have a slim neck profile and low action.
It's also worth noting that playability means a forgiving and more inviting playing experience. Comfort and the playability of acoustic guitars are intertwined features, and you cannot have one without the other.
If you are shopping for an acoustic guitar with the best playability, here are the options you might want to consider.
Instrumental Global is a participant in the Amazon Services LLC Associates Program; an affiliate advertising program designed to provide a means for sites to earn advertising fees by advertising and linking to Amazon.com.
---
The Most Playable Acoustic Guitars
Martin D-28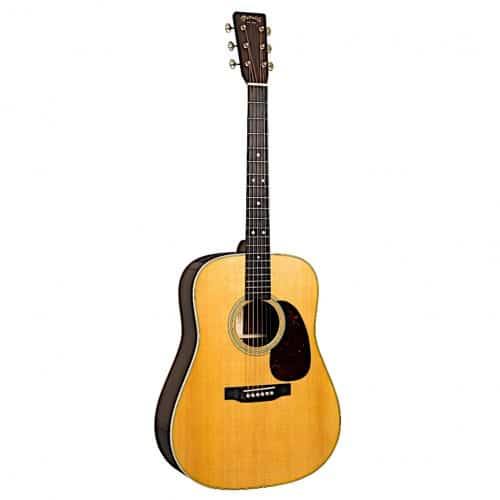 Martin is one of the biggest brands of acoustic guitars on the market today, and this D-28 is an ultimate expression of that dreadnought form and design.
While the reimagined design is an option that you can choose or leave out, this guitar is one of the best high-end guitars in history, and it boasts a great level of playability.
Some of its features include the forward-shifted bracing, its vintage-style aesthetic, a wider nut, as well as a comfortable neck design, which boost the guitar's comfort and playability.
The Martin D-28 has a great balance of sound, and it has an all-rounded feel. This acoustic guitar is a great fit for pros, and you might like how the notes will ring out with a great sustain and an incredible piano-like sound definition.
It also boasts great harmonics and strumming effects, as well as excellent high mids, and that treble with great choral qualities that will not overshadow its low mids. This guitar is the perfect embodiment of the dreadnought guitar's look, feel, and sound.
Its top is constructed out of the solid Sitka spruce, while the sides and the back are made of East Indian Rosewood. The neck is built with hardwood, while its fingerboard is made of ebony. It's left-handed, and its tuners are made of open nickel gear.
Pros
Nice look and feel
Natural acoustics
Nice glossy finish
Well-balanced sound and clarity
The reimagined design gives it an enhanced playability
Comfortable low action and neck design
Cons
---
Taylor Builder Edition K14ce
If you are looking for a high-end acoustic guitar that will give you that grand auditorium feel, then this Taylor 14ce acoustic guitar with a torrefied Sitka Spruce top and sides/back made of Koa would be a great option for you.
Its neck is made of tropical mahogany, the fingerboard is made of West Africa ebony, and the tuners are made of Gotoh.
This acoustic guitar's design is the perfect blend of modern and vintage vibes, and by combining its design features with Taylor's V bracing, the guitar feels a whole lot comfortable, even as it produces great grand auditorium-style sounds. It also boasts exceptional sound quality.
The other unique feature of this guitar is the spring vine inlay which ties down the dark brown/ black ebony board, and also enhances the appearance of the lighter Koa stripe along the edge, continuing around the headstock, for that elegant feel that you only find in the high-end acoustic guitars.
Boosting the sound effects and qualities of this acoustic Taylor guitar are the age-gold Gotoh tuners which enhance the finish of the guitar while also creating that nice worn-in vibe.
Pros
High-position access
Vintage x modern design
Nice Mahogany neck
V-class design of this guitar means an increased sustain, a higher tonal spectrum, and more natural intonation
Great sound
High level of comfort and playability
Cons
---
Fender CD-60S
Boasting the best playability thanks to the low-action and its thin-neck design, this Fender CD-60S acoustic guitar is the best, most playable guitar for beginners. It's super-affordable, and it comes with great features, some of which can be found in high-end guitars.
This acoustic guitar is made of a dreadnought body, a top made of solid mahogany, as well as sides and its back made of laminated mahogany. The neck is also made of mahogany, and thanks to the use of these high-quality woods, this guitar promises great sound.
The fingerboard is made of rosewood, and the tuners are die-cast chrome, meaning that this acoustic guitar would be the greatest and also the coolest investment you make as you grow in your musical journey.
On top of the tonewood and the build of this Fender CD-60S, this acoustic guitar boasts a dreadnought body type, which allows you to enjoy great highs and some of the lowest low ends.
This body type and the use of mahogany will leave you with a fuller, all-rounded sound, volume, as well as high mid-level power, hence a bright treble. The construction of this acoustic guitar also means that you can look forward to more output, punch, bass, and midrange.
The tuners work great too, and for a budget-friendly guitar, you will enjoy the best playing ability and less fret buzz.
Pros
Great sound for different music genres and playing styles
It's very affordable
Low action and thin neck for the best level of playability
It has a nice jazz bass
Great for beginners and intermediate players
Well-balanced sounds
It stays within the selected tune
Cons
The finish and look doesn't work for everyone
---
Epiphone EJ-200SCE Electric-Acoustic Guitar
If you are looking for an affordable electric acoustic guitar for use in your plugged-in performances, then this vintage-style Epiphone acoustic guitar might be a great option for you.
A jumbo acoustic guitar, it's made of a solid spruce top with the back and the sides made of a select type of maple, and a neck made of hard maple, this guitar promises good sound effects.
It's a left-handed acoustic guitar with a Pau Ferro fingerboard and Grover Rotomatic 18:1 tuners for an excellent feel and sound.
The other distinctive features of this acoustic guitar include its decorative tortoise shell-style pickguard, a moustache bridge, and the Pearloid crown inlay, which create a well-balanced rather than a boomy sound.
These features also give the guitar perfectly strumming chords with a nice level of fullness. These features are also the reason why this acoustic guitar gives off some of the most articulate highs and, in the bottom end, a warm foundation.
On top of that, the guitar sports the Shadow eSonic-2 preamp, which takes this guitar to the next level of greatness.
You might also like the guitar's mono pickups, which are quite blendable and the high-quality of the plugged-in sound. And to keep the sound all sweet, it comes with an onboard tuner.
Pros
Boasts a classic J-200 styling and it looks great
It has a nice stereo pickup system
It boasts big jumbo tones
Cons
The electronic elements could be better
---
Taylor GS Mini Acoustic Guitar
The other guitar that boasts great playability and also an ideal fit for anyone who travels a lot is this Taylor GS Mini Guitar. It is a mini-grand symphony acoustic guitar for traveling, and it comes with all the features that make the guitar a traveling musician/ performer's best friend.
Its top is built out of high-quality Sitka Spruce, and the sides along with the back made out of the best laminated Sapele (African Mahogany). Sapele is also used for the neck as well, and the fingerboard is made of high-quality West African Ebony. Its tuners are made of chrome die-cast.
And despite being a mini acoustic guitar, it has a length of 23.5". So, whether you are looking for a travel-sized guitar or even a modern-day parlor acoustic guitar, this acoustic guitar by Taylor would be a good fit for you.
The price is just right, it's comfortable, and it boasts an excellent level of playability. Note that the build features of this guitar are the reason for the guitar's impeccable sound effects and its durability.
The guitar will also give you the best low-ends and also a great bass. The midranges also sound great, with some parlours being silky and the perfect level of high.
Pros
Great sound and playability
Idea for traveling
High-quality design and build
Comfortable
Nice Mini grand symphony cutaway body type
The size is also perfect for small-bodied players
Nice fit
Cons
---
Conclusion – Most Playable Acoustic Guitars
Acoustic guitars with the best playability are designed with some elegant features and functions which ensure that the player has a remarkable experience.
The prices differ for these guitars, but at the end of the day, you need to ensure that the guitar you are considering has a nice, solid build, low-action design, a thin/comfortable neck, and solid tuners. The guitars above are some of the best, and they offer good value for your money.
I hope you enjoyed my recommendations for the most playable acoustic guitars. If you have any questions or feedback; please comment below.
---
Disclaimer
Instrumental Global is a participant in the Amazon Services LLC Associates Program; an affiliate advertising program designed to provide a means for sites to earn advertising fees by advertising and linking to Amazon.com.
Bear in mind that some of the links in this post are affiliate links and if you go through them to make a purchase I will earn a commission.
Keep in mind that I link these companies and their products because of their quality and not because of the commission I receive from your purchases. The decision is yours, and whether or not you decide to buy something is completely up to you.