How Much Does Guitar Tricks Cost?
You are most likely thinking about buying Guitar Tricks, but you are wondering how much does guitar tricks cost?
There are a few pricing options available that I will go through for you. Guitar Tricks in my opinion is the best online guitar course available.
Even if you are a complete beginner or a more advanced guitarist, Guitar Tricks offers endless value. If you want to know more about Guitar Tricks, you should read my full review HERE.
---
Guitar Tricks Cost
Guitar Tricks is a subscription based platform with two options to choose from.
Full Access Membership ($19.95 Monthly)
Basic Membership (Free)
The basic membership is what it is really – 'Basic'. You can see from the breakdown below that you get a little taster of what Guitar Tricks have to offer.
If you want to get the best out of Guitar Tricks, you should at least try a free trial of Guitar Tricks' Full Access Subscription.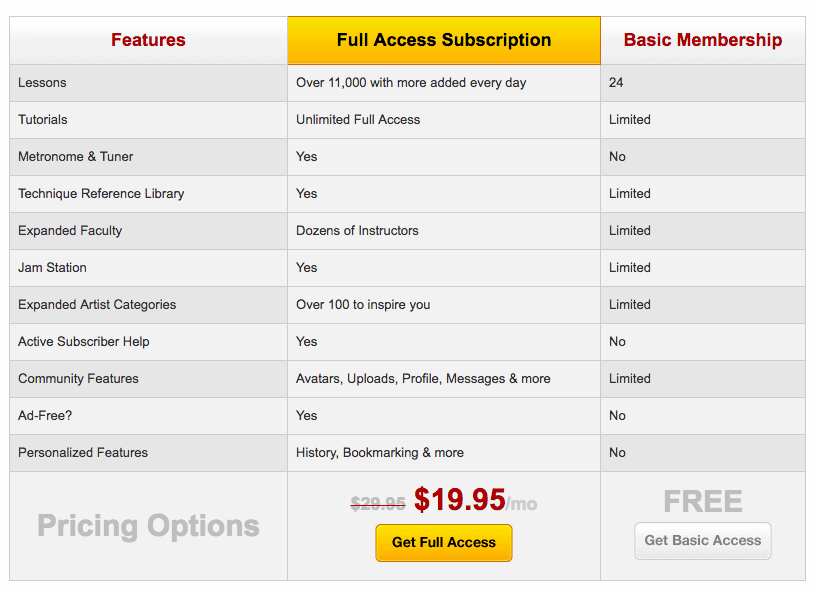 ---
Guitar Tricks Free Trial
If you are unsure and don't want to dive in and just buy Guitar Tricks right away, they offer a very good 14-day free trial HERE.
The Free Trial is well worth trying as it will show you the scope of how much content you are getting with Guitar Tricks.
With over 11,000 video lessons for all skill levels, you will be amazed at how much there is to offer. Make sure you check out the Guitar tricks online community.
Take the time and look at all the features available and how Guitar Tricks can work for you. If you are a beginner, have a look at some beginner lessons and how they get you started. Here's a sample of one of the lessons below.
---
Money Back Guarantee
How much does guitar tricks cost? Well in a way it will only cost you your time.
The reason being, you get a 14-day free trial to access the full potential of Guitar Tricks, but if you do go ahead; you get a money-back guarantee.
Guitar Tricks offers full access members a 60-day guarantee if you are not happy with the service or feel they are not benefiting from it.
So with the free trial and the 60-day money-back guarantee, you are getting 74 days to dive into Guitar Tricks.
---
How Much Does Guitar Tricks Cost?
The full-access subscription has two payment options. The standard and more popular way is to pay monthly.
The monthly cost of Guitar Tricks is $19.95.There's also the option to buy an Annual Membership of Guitar Tricks for a discounted price of $60 annually.
The Annual Fee is $179.99 which works out at $14.99 monthly.


---
Guitar Tricks Costs Vs Other Programs
Guitar Tricks isn't the cheapest option available, but it is the best in my opinion. If you are looking for a cheaper option, I would maybe look at Fender Play.
Fender Play is a relatively new online guitar program that has got very popular. Like Guitar Tricks, Fender Play also works as a subscription-based service.
How Much Does Guitar Tricks Cost compared to Fender Play?
Well, it's half the cost at $9.99 which is amazing value.
You Can Find a Free Trial For Fender Play HERE
---
Disclaimer
Keep in mind that we may receive commissions when you click our links and make purchases to fund this website so we can continue to create amazing reviews for our readers. However, this does not impact our reviews and comparisons. We try our best to keep things fair and balanced, in order to help you make the best choice for you.