Learning To Play Piano For Beginners | Everything You Need To Know
You are researching online about learning to play piano for beginners. Good, I am here to help. I know you are probably wondering, is it hard to learn piano, how long does it take to learn, and so.
I will do my best to cover it in this post, and if I don't, leave a comment at the end I will answer it for you.
How To Learn Piano For Beginners
Learning piano doesn't need be difficult. You just need the right approach to learning to play.
But, we have a few options available to us to learn piano. You don't need to go down the old traditional route where you work with an instructor who I nearly always assume is elderly( I don't know why).
You have two main options really in my opinion when it comes to learning piano as a beginner.
One To One Lessons
Online Piano Lessons
One To One Lessons
One to one piano lessons are great. You get the complete hands on approach to learning piano. Your teacher can take you step by step through the basics and progress you into a brilliant piano player.
Another major plus is that you can use their piano. You don't need to go out and get your own piano. Which is really handy. However, you are a little restricted as you can only play it while at your one to one lesson, and time is money.
There's two major drawbacks getting one to one lessons when learning to play piano for beginners. Those are the costs involved and time it takes you to learn.
One To One Lessons Costs
Let's look at the costs first. You can expect to spend about $50+ a lesson or more for a 1 hour piano lesson. I am saying 1 hour because it's easier. You might have some teachers who offer 30 minute and 45 minute sessions.
Now let's just think about that $50 a lesson, once a week. Your next question you're thinking is "how many piano lessons do I need?". Well you are going to hate the answer.
It's very hard to saw how many piano lessons you need. So many variables come into play.
For example, your skill level, time you spend practicing outside of lesson time, what level do you hope to achieve and how good your teacher is.
Lets take an example of 26 lessons. That's one lesson every 2 weeks for a year. You should have a good grasp at piano by then and more than capable of playing some decent piano.
26 (lessons) x $50 = $1300
$1300 to play piano sounds like a lot to me if I'm honest. No to mention that's only 26 hours of learning when you think about it.
How Long Does It Take To Learn Piano With Lessons
But the money is not my biggest concern, it's how long it takes to learn piano. 1 year with a lesson every 2nd week sounds reasonable right? I don't think anyone would be getting multiple lessons a week.
You are so restricted by only progressing with the help of your teacher and the cost of each lesson.
Fair enough in the beginning, they can be very beneficial learning the basics. But after that progressing is too slow in my opinion.
So how can you learn to play piano quickly? YES! Get An Online Piano Course.
Online Piano Courses
There's a number of reasons why I think online piano courses are better than one to one lessons. Can you guess them?
Cost & Speed of learning
How Much Do Online Piano Lessons Cost?
Well it can depend on which online course you choose. I recommend Piano For All. It has been downloaded over 200,000 times.
The reason I recommend it is because it's affordable cost and how quickly they get you playing piano.
Piano For All costs less than the price of a single piano lesson. You can pick up the course for $39 using our 50% discount link below,
A full online piano course that I can learn at home with my laptop for less than a single one to one lesson.
Learn To Play Piano Quickly For Beginners
Ok, online courses are cheaper. But what about learning to play piano for beginners. Piano For All claim they can have you "sounding good" in a matter days. Now you are not going to be Beethoven, but you wont sound like crap.
But, the major advantage of an online piano course for beginners is that you can learn at your own pace. So rather than your 1 hour session every fortnight, you can commit 1 hour a day if you so please.
The only major downside is that you will need to get a piano early on to start learning. Not a deal breaker as I can imagine you will want to invest in one anyway at some stage if you are planning to learn piano right?
But, remember you don't need to run off and and buy a grand piano right away. A simple piano keyboard for less than $200 will do you perfectly fine when learning to play.
How Long Should You Practice Piano?
At the beginning, I would try and set aside 20-30 minutes a day for the first few weeks. When you think about it, it's not that much time. Just skip that last episode on Netflix
Even with 20 minutes a day, you will notice your skills improving every day. Your finger placement skills, speed at reading notes and muscle memory will all start syncing together better.
Try and do 20-30 mins a day, rather than 2 hours straight on a Sunday. I think you will find you are playing catch up form the week before when doing a single weekly session.
Whereas the 20 minutes session from the night before is fresh in your mind and can naturally progress.
Which Piano Is Best For Beginners?
It's hard to say exactly as I'm not sure what type of piano you are in the market for. However, I will assume you are nit going out to spend $5K on a grand style piano.
Which piano is best for beginners? I will recommend two models you can buy on amazon that are good pianos for beginners.
You can find these on Amazon. But be sure to check out some of the reviews. It's what I love most about buying on Amazon. You can read honest reviews from everyday people.
Yamaha P71 Piano
The reason I recommend is because it's one of the best pianos for beginners. It's 88 key weighted action makes it feel very close to a real piano feel. Which is important.
The Yamaha P71 is the exact same as the Yamaha P45. The only difference is that the P71 is sold exclusively on Amazon. I did a post on the P45 vs P71 explaining this similarity.
You don't want to buy a piano keyboard that feels cheap and badly made. Yamaha are one of the biggest and most reputable names in Piano, so you know you are buying quality.
This is perfect if you want a real piano feel but don't have the space for a full sized piano, this might be the one for you.
Although it's not the cheapest keyboard Piano in the world, I think it's worth the investment.
If you putting in your own precise time to learn to play piano, you need the right tool to learn. The Yamaha P71 is one of the best pianos for beginners.
---
Casio Privia PX-160
Ok, I love this one. Why? Well it looks like a great piano, and it doesn't cost $1000's of dollars.
Albeit, it's a little more on the expensive side for a beginner maybe, but it's an investment that will last you a couple of years.
The Privia PX-160 is Casio's best digital pianos, and it's easy to see why. The design has an elegant sleek look with 88 weighted keys with ebony & ivory texture. This piano just makes you feel confident.
It's great for a piano to look great, but you want to play. This isn't for show. It's equally important that it also sounds amazing. The Casio PX-160 has an authentic grand piano sound, without breaking the bank.
This is just a brief description about the piano, but I would check out the reviews. On Amazon at the moment it's very highly rated.
There's 140+ commonly asked questions answered by the suppliers in the Q&A section. Have a quick look to see is there anything to you might want to know.
---
Learning To Play Piano For Beginners – Summary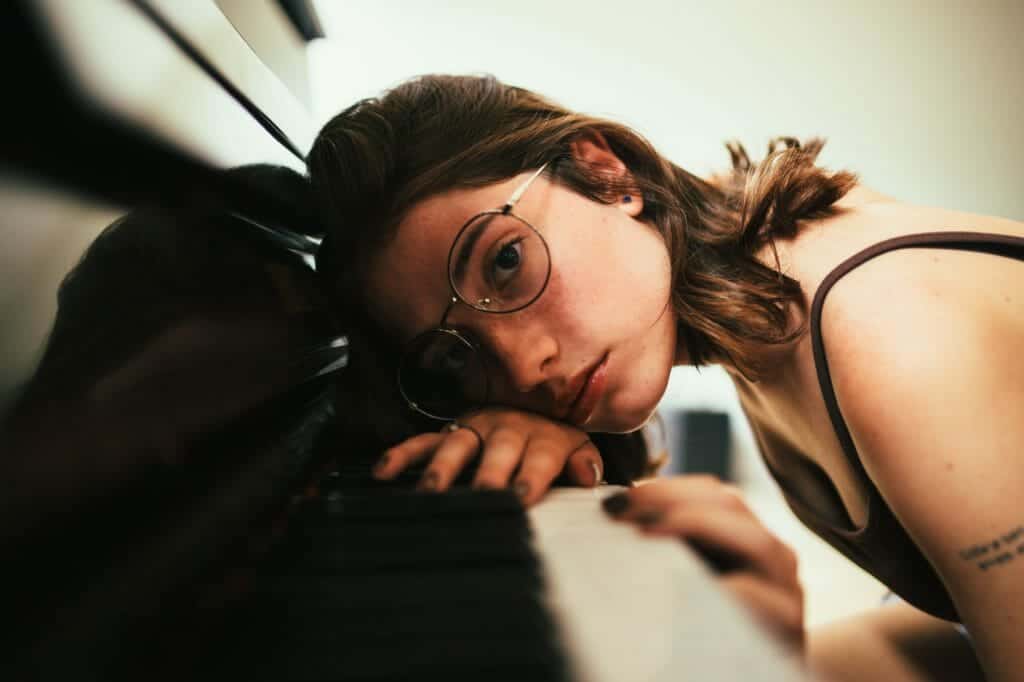 Learning to play piano for beginners can be pretty easy. This is what I suggest to do.
Get A Piano
Get out there and find a piano. On Amazon, eBay craigslist, wherever. You need a piano to learn practice and play.
Get An Online Course
In my opinion it's by far the quickest and cheapest way how beginners can learn piano. I would check out Piano For All. It will cost you less than a single piano lesson.
20 Minutes A Day
That's all you need. 20 minutes a day for a couple weeks and you will find some massive improvements. You should see some quick progress if you can set aside 20 minutes a day.
Enjoy It
Don't put too much pressure on yourself. Playing piano is supposed to be therapeutic and relaxing. I know learning to play at the beginning can be frustrating, but it's worth in the end. You are learning a skill that you can keep for life.
I hope you liked this article and it was of some benefit to you.
---
Keep in mind that we may receive commissions when you click our links and make purchases to fund this website so we can continue to create amazing reviews for our readers. However, this does not impact our reviews and comparisons. We try our best to keep things fair and balanced, in order to help you make the best choice for you.