Superior Singing Method Review
Are you like me? Do you want to be a better singer? Do you want to be a better singer and not spend hundreds of dollars in trying to become a better singer? I came across this advert online about this amazing online singing course. It was reasonably priced so I said I'd give it a try. Here's my Superior Singing Method Review.
So why did I buy the superior singing method? Well, I wanted to be a better singer for one. I wasn't a bad singer, but I could've been a lot better.
Except this time, I needed to be better as I had a performance coming up. Now I've performed before, but this time I was a little more personal.I was performing at one of my best friends wedding.
The bride & groom asked would I perform some songs during the wedding ceremony. I was delighted with the compliment about being asked to perform at their wedding. I couldn't say no, could I?
The problem was, I was shitting myself. I was extremely nervous. I've sang before at a wedding, but after a few drinks at the party. Not like this, at the ceremony with everyone watching.
They gave me a list of a few songs they wanted to be sung. Let's just say, a couple of them were out of my depth; or so I thought. I needed a little help.
There was a pretty big crowd going to this wedding. One of my friends trusted me to perform at their wedding. This HAD to go well. For my friends wedding, everyone attending and my own self respect.
It's around this time I came across the Superior Singing Method. The quick online course was a major help for me preparing for this wedding.
Side Note
Since trying a number of singing courses over the years, in my opinion the best
online singing
course currently available is the 30 Day Singer.
---
What Is The Superior Singing Method?
The Superior Singing Method is like having your own personal singing coach. How does this work and how can it help me.
The creator of the Superior Singing Method, Aaron Anastasi, says that this can help you become a better singer by helping you with the following:
Better Vocal Control
Develop More Accurate Pitch
Improved Tone & Vocal Power
Vocal Agility
Increase Your Vocal Range
Learn Advanced Singing Techniques
---
Superior Singing Method Review – What Did I Think?
What I loved about this course, and what I found really helped me was how it covers all aspects of singing.
You can see that Aaron (the creator), put a lot of effort into creating an in depth course that help all levels of singers.
It really does exactly what is says on the tin. The Superior Singing Method really does deliver all aspects mentioned in the bullet points above – voice control, pitch control & vocal power.
The program is so easy to access. You can use it on your laptop, tablet or mobile. This allowed me to practice anyway. I tend to get a little embarrassed practicing at home, especially if there's other people there.
Not sure why, but I sometimes get awkward as the walls are thin and the whole house can hear every note. What I liked how I could simply bring my tablet with me and practice any time I like and anywhere.
What I love about the superior singing method is that it feels very personal. Aaron himself is in every video and personally demonstrates each step extremely well. He comes across as a likeable character, in a pleasant calm tone that will appeal to many.
He's not too loud, or gives off this pushy overly positive guy. You know the ones who scream 'YOU CAN DO IT' attitude. He's honest, helpful and easy to follow. Aaron really helped me enjoy this program.
The one thing I will say is that it can be extensive. There's some work in it. But that will suit some more than others. Personally, I rather have too much info rather than very little info, especially if you are paying for it.
---
How Long Is The Singing Course?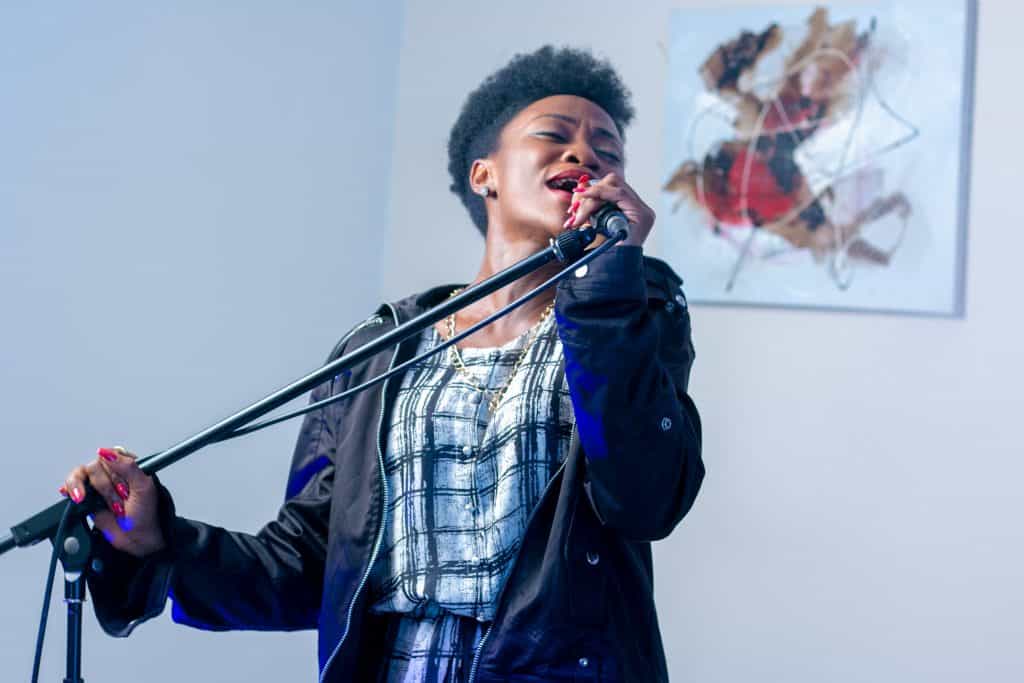 The course is broken up into 8 easy to follow modules that take roughly 60 days. It can be completed over and over to constantly improve.
Module 1: Unique Vocal Warm Up Exercises
Warming up is so overlooked. It's one of the most important parts of becoming a better singer. We use many vocal muscles when singing and it's important to warm them up correctly to get the best out of them.
Module 1 gives you the essentials you need to improve your pitch control, vocal range and vocal strength.
Module 2: Breath Management and Diaphragm Breathing
If you want to be a good singer, you need to know how to breath correctly while singing. Breathing correctly while singing can have a massive improvement on your vocals.
Aaron brilliantly walk your through the basics on correct breathing and how to use it to your advantage with amazing control.
Module 3: Mastering Vocal Tone
Module 3 really gets to the good stuff. This is where you really start to learn how to be a better singer. Vocal tone is where a singers personality really shines.
Module 3 allows you to explore your singing voice and find the style that suits you and how to utilise it to your advantage.
Not only does Module 3 show you how to get the best from your voice, it also shows you to get rid of the bad habits and cracks in your voice.
Module 4: Improving Pitch
There's good singers out there that butcher songs because they don't know how to control pitch. Having great pitch is something that can be thought.
Aaron shows singers how do what's called 'develop your ear'. A method of training your ear to hear a pitch and know what pitch the note is. Knowing how to do this is an amazing talent and will help you become a better singer.
Module 5: Resonance and Singing With Power
This module is all about vocal stamina. It helps you strengthen your voice, sing for longer, at ease without straining voice or getting fatigued.
You will learn how to use resonance to sing with more power while maintaining a great vocal tone. You will build your vocal stamina so that you can sing with a stronger voice for longer without fatigue.
Module 6: The Mix Voice and Singing Higher Notes
I mentioned at the start of this post, that the songs my friend asked me to sing were difficult. They required some high notes with quick transitions.
Module 6 helped me so much. It thought me how to sing those high notes. A few quick tips had me on the right path to master transitioning between high and low notes without breaking my voice, losing tone or pitch.
Module 7: Improving Vocal Agility
This follows on from module 6 and goes into more detail of how to bounce from note to note in perfect pitch and control.
Module 8: Advanced Strengthening and Vocal Techniques
If you are wondering if you should you buy the superior singing method; it's probably safe to say you want to be a superior singer. Better than your average joe. Module 8 is all about going into more advanced techniques and vocal secrets.
By the end of this course your singing skills should have improved dramatically. In order to continue to improve, you will need to challenge yourself.
Module 8 will show you how to gradually improve your voice and break through vocal plateaus. Continuing to increase your range, improve your vocal stamina, vocal range and overall vocal performance.
---
Does The Superior Singing Method Work?
My honest answer is YES. The Superior Singing Mehtod does work. But you need to be prepared to work for it. Even if it's only 10 minutes a day for a month, you will not believe how much this course can help you.
It's much more affordable compared to spending hundreds of dollars on singing lessons. This course is cheaper than a single 1 hour singing lesson with a coach.
Aaron himself is one of the most sought after singing coaches and has worked with some of the biggest names in the music. He's more than qualified to take you to the next level and become a better singer.
---
Should You Buy The Superior Singing Method?
No. If it was me, I wouldn't buy the SSM. The reason why is because I think there is a better online singing course available called the 30 Day Singer.
It offers more indepth content, more videos, its easier to follow and also has to option to have a virtual singing lesson with a real singing coach.
The 3 DaySinger is an amazing course that can help you become a better singer in 30 days. I have a few reviews done on this you can check out or you can claim your free trial voucher.
---
Disclaimer
Bear in mind that some of the links in this post are affiliate links and if you go through them to make a purchase I will earn a commission.
Keep in mind that I link these companies and their products because of their quality and not because of the commission I receive from your purchases.
The decision is yours, and whether or not you decide to buy something is completely up to you.