Affordable beginner guitars in this price range usually sound terrible. With poor craftsmanship and bad tone, they are hard to play.
The Yamaha F325D is that rare gem of a cheap acoustic that actually performs well. Yamaha is known for its precise manufacturing and quality control, and the F325D is no exception.
While not the greatest-sounding acoustic guitar there is, it's a versatile all-rounder. Part of Yamaha's mainly entry-level F range, the F325D is priced low.
Even so, it delivers the quality you need. Well built, it has a good, balanced tone and is reasonably easy for a beginner to play.
Please Note I May Receive Commission For Any Purchases You Make Through Links On This Page!
---
Yamaha F325D Review
The Design of the Yamaha F325D
– Key Design Features
Unlike many cheap guitars, the F325 really does offer some excellent features. It is well set up, with no dead notes and excellent intonation.
The neck is slightly chunky, so smaller hands may find it challenging. However, the neck shape actually encourages correct technique, another plus for beginners. The gold die-cast tuning heads give smooth and accurate tuning.
– What It's Made From
This guitar has meranti body and sides, and a laminated spruce top. The body is well made, with sturdy bracing and joinery. The nato neck features a 20-fret fingerboard and is well joined to the body. The F325D has a simple gloss finish. An understated teardrop-shaped pickguard adds to the clean, classic look.
– Type of Guitar
The body of the F325D is in classic large dreadnought style. It is a full-sized, six-string acoustic guitar, oriented for the right hand. Being a Yamaha, it is well crafted, even though it is made from less costly, basic materials.
No products found.
Sound Quality
The Yamaha F325 would not win any accolades going head-to-head with more expensive guitars. But in its price class, it's hard to find a competitor. It is constructed from cheaper tonewoods but still sounds pretty good for a beginner instrument.
The sound is quite full when strummed with a pick, and carries enough warmth and low end. The dreadnought style body also gives the sound a lot of projection and volume.
All this translates to a guitar that works well for strumming out folk, pop, and rock songs. For more nuanced playing techniques, however, it will not perform as well.
This is a beginner's guitar and is designed for affordable quality. The sound carries enough warmth and volume, and the guitar is not too hard to play. It's perfect to
practice all your finger techniques. The rosewood bridge design also helps the F325 stay in tune for long periods.
---
Final Thoughts On The Yamaha F325D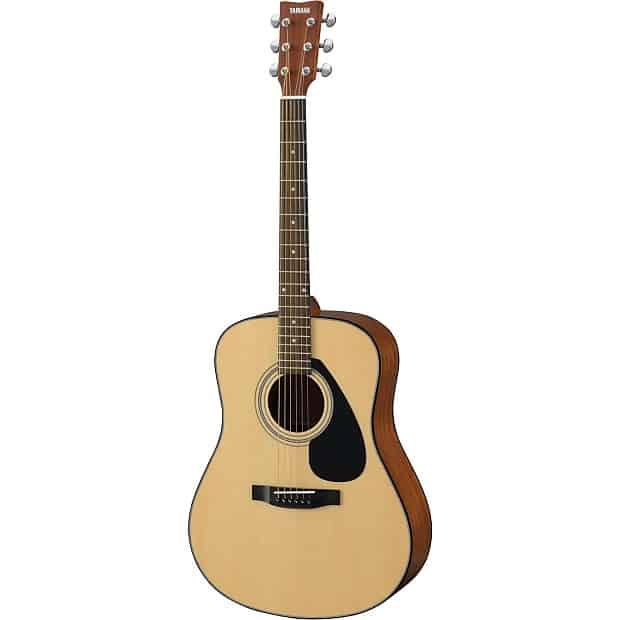 For anybody that is just starting out learning to play guitar and needs an affordable but decent guitar, this is it.
The Yamaha F325 will not win any contests and is not a great gig guitar. But the good, strong build will give you versatile sound while you experiment with different genres.
It is a reliable, fairly good sounding instrument that will serve you well for a long time. A budget guitar with adequate quality, it is stable and consistent, and fun to play. It is a very good value for money and will ensure you start off on the right foot.
I hope my Yamaha F325D Review was helpful for you. If you have any questions or comments; be sure to comment below or feel free to reach out using our contact page.
No products found.
---
Disclaimer
Instrumental Global is a participant in the Amazon Services LLC Associates Program, an affiliate advertising program designed to provide a means for sites to earn advertising fees by advertising and linking to Amazon.com.