Learning to guitar at 30 might sound a little daunting. You might think you need to learn from a young age or maybe you won't be able to find the time around your busy schedule. I am here to guide you in the right direction and show how easy it can be to learn guitar at 30 years old.
I have done a few posts already on learning guitar for beginners, best online courses and how to teach yourself how to play guitar. Well this Learning Guitar At 30 is a mix between all of them.
I will break down this post into a few easy steps to follow to set you on the right path to learn guitar in your 30's.
---
Step 1 – Get A Guitar
In order to learn guitar you need to get yourself a guitar. You might already have one in mind, maybe you don't have a clue.
I want to make learning guitar in your 30's as simple as possible so I will give you my own recommendation.
I would consider buying the Fender FA-115 (SP). It's very reasonably priced, under $150 and comes with all the bits and bobs you need to get started.
It has everything you need to start playing right out of the box – Guitar, tuner, string, carry case, guitar strap and essentials DVD.
Just read some of the 100's of reviews for the Fender FA-115 on Amazon and I'm sure you will be confident it will suffice.
If you are keen on starting off with an electric guitar, try this post I did on the best electric guitars for beginners.
You can also try buying a guitar off eBay or maybe craigslist. Do you know someone who has a guitar you can borrow?
Personally I think buying a new one is more of a motivator to be honest and gets me more excited.
---
Step 2 – Decide How You Want To Learn
Learning guitar in your 30s has it's drawbacks. You more than likely have a busy schedule already with your career, family and many other commitments. This makes it difficult to find time to learn guitar, well the old traditional way anyway. By old traditional way, I mean one to one lessons.
One to One Lessons
In my opinion, one to one guitar lessons are dying. It takes up too much of your time, is very expensive and actually takes longer to learn I think.
With one to one lessons, you need to stick to a lesson schedule; maybe one a week and hand over $50+ a lesson and do that week after week.
Online Guitar Lessons
There's a better way nowadays to learn guitar and it's more popular now than ever – Online guitar lessons.
Learning to play guitar online is the best way to learn guitar in your 30's. It's cheaper, you are not confined to location and you can learn at your own pace.
All you need is to set aside 20-30mins a day a few times a week. Learning guitar at 30 has never been easier.
I have done a couple of post reviewing some of the best online guitar courses like Guitar Tricks, Jam Play and Fender Play. You can read the full post and recommendations HERE.
I won't bog you down with the details of each, but do check out each post and see which one might work for you. But if I had to point you in the right direction, I would try Guitar Tricks.
I have free trial links below and a discount code for Jam Play. I would at least try both free trials as you have nothing to lose.
---
Step 3 – Set Aside Time To Learn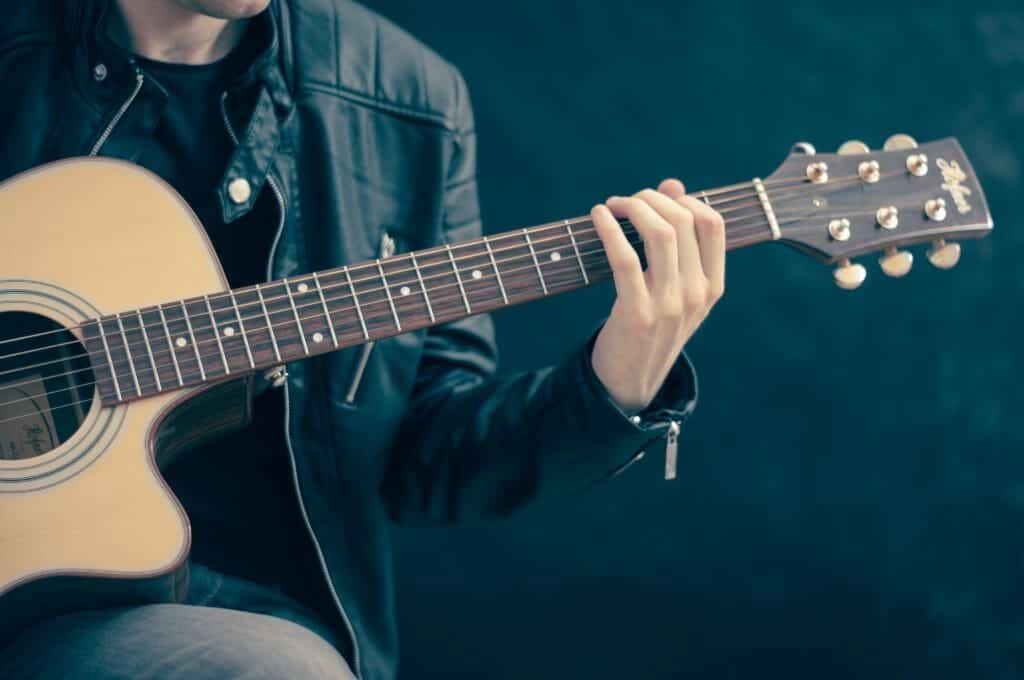 Learning guitar in your 30s doesn't require hours and hours of practice. You're probably surprised to hear, all you need is 20-30 minutes a few times a week.
In fact Fender Play's online course focuses all it's teaching on small quick 10-20 minute videos learning to play guitar. This means if you have a little bit of time to spare in the afternoon or on your lunch break; you CAN learn guitar.
No matter how busy anyone says they are, we can always spare 20-30 minutes. It's basically a single episode of some TV show.
The beauty of learning guitar using on an online course is that you are not time or location restricted.
You can spend 5 hours one week learning and nothing for the next 2 weeks. It still costs you the same and a hell of a lot less than one to one lessons.
---
Step 4 – Patience
I'm sure you're smart enough to know you're not going to play like Jimi Hendrix or Slash in a week. It's going to require some patience and persistence.
Learning guitar at 30 and learning as a child still required the same patience and persistence and hard work.
You will sound terrible at first, but the more 30 minute sessions you fit in; the quicker you will notice your skills improve. Trust me, when you notice your skills improving, it becomes addictive.
---
Step 5 – Start Now
Procrastination is one of the worst things in the world and usually leads to regret. You're reading this wondering about learning guitar in your 30's; but I'm guessing it's been on your mind for years about learning to play guitar.
---
Learning Guitar In Your 30s
Learning guitar at 30 is something to be proud of. It's a skill you will have earned that will last you the rest of your life.
If you apply yourself and follow the few simple steps I have outlined; I'm confident you will learn guitar in no time.
I hope you enjoyed this post and if you think it helped you please share it on Facebook & Twitter. Thank You.
---
Disclaimer
Keep in mind that we may receive commissions when you click our links and make purchases to fund this website so we can continue to create amazing reviews for our readers. However, this does not impact our reviews and comparisons. We try our best to keep things fair and balanced, in order to help you make the best choice for you.